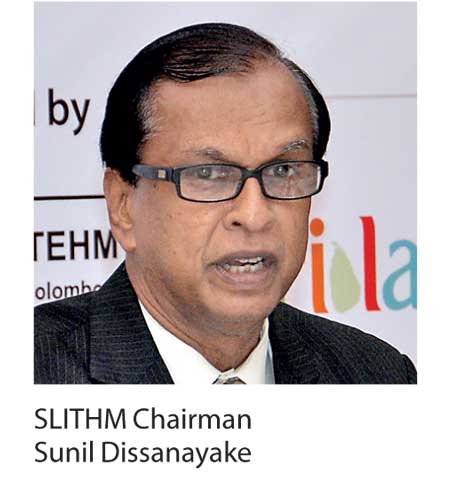 Launches 'Health and Wellness Tourism' training program targeting Ayurvedic sector
University of Colombo and Jetwing Hotels support initiative with expert input
SLITHM Chair highlights importance of professional tourism education
SLTDA to gazette new regulations to standardise Ayurvedic sector
By Charumini de Silva

Extending a helping hand to the tourism industry, the Sri Lanka Institute of Tourism and Hotel Management (SLITHM) will today launch the first in a series of training programs on 'Health and Wellness Tourism' primarily targeting the Ayurvedic sector in Colombo.

The institute launched a series of workshops and training programs for the benefit of tourism stakeholders, which will be conducted by the newly set up Tourism Event Management Unit of SLITHM.

The training program aims to uplift the tourism business operational knowledge, skills and competencies of industry stakeholders and will be launched under the patronage of Tourism Development Minister John Amaratunga today at SLITHM.

"As a primary goal we aim to provide high-quality, affordable and practically relevant education for the industry.

Towards this target we are in the process of reviewing and amending the current curricula to align them with current industry requirements," SLITHM Chairman Sunil Dissanayake told the Daily FT.

Pointing out that the institute has primarily focused on hotel management and hospitality during the past 50 years, he said SLITHM was keen to play a leading role in the invigoration of the tourism industry and has set in motion a three-year Strategic Direction Plan from 2016-2018.

"It is important to provide tourism-related professional education with a certification. Health and Wellness is a key area that lacks professional education. We need to provide them with training beyond the technicalities in Ayurvedic spa treatments," he added.

In addition to the program commencing today, various training programs and workshops in key areas including medical tourism, adventure tourism, sports tourism, MICE tourism, inbound and outbound tourism, reservation and ticketing as well as on estimation management will be conducted by SLITHM in the future.

He said the University of Colombo and Jetwing Hotels have come forward to support this initiative with expert input.

Dissanayake also noted that the Sri Lanka Tourism Development Authority (SLTDA) will soon gazette new regulations to firms that are engaged in the Ayurvedic sector.

"The draft is near completion and we hope the gazette will be out soon. The new regulations were not to control, but to standardise and provide better facilities for value additions. The new gazette will require firms to obtain a license in order to engage in Ayurvedic spa treatments," he added.

Aligned to cater to the growing tourism industry manpower requirements, SLITHM has expanded its reach by establishing new colleges to attract young students into the sector and train unemployed youth in the rural and suburban areas.

In this process SLITHM achieved a record in 2016 by training the highest number of students in a calendar year. Whereas the combined intake for all courses in 2015 was just under 3,000, in 2016 this figure rose to well over 5,000.

SLITHM has also been striving to upgrade the standard of education in the tourism and hospitality industry through international collaboration.