61 project proposals with envisaged investment of $ 914 m received in past 15 months
29 projects with $ 184 m already approved
Dedicated Investment Liaison Unit set up at SLTDA
43 MoUs with State sector agencies earmarked to speed up facilitation; 10 already signed
---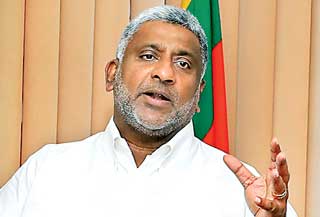 Tourism Minister Prasanna Ranatunga
---
Sri Lanka, under the new Government, has attracted nearly $ 1 billion worth of investment proposals to the tourism sector given its future prospects, despite the COVID-induced challenges, Tourism Minister Prasanna Ranatunga said yesterday.
In a statement yesterday, Ranatunga said that during the past 15 months (March 2020 to June 2021), there had been 61 projects proposed in the tourism sector with an envisaged investment of $ 914 million.

"During the year ending March 2021, there were 54 projects with an envisaged investment of $ 880 million, and between April and June 2021 a further seven projects with an investment of $ 54 million was received," Ranatunga said. Proposals included a cable car project, floating restaurants and underwater art galleries.
Of the total 61 proposals, 29 projects with an investment of $ 184.4 million had been approved by the relevant authorities, he added.
Ranatunga said that the receipt of seven projects worth $ 34 million coming in during the third wave of the COVID-19 pandemic implied investors and companies remain positive about the future prospects of tourism in Sri Lanka.

"The remaining proposals are at various stages of the approval process."

The Sri Lanka Tourism Development Authority (SLTDA) has also established an Investment Liaison Unit (ILA) to expedite the approval of tourism investments. It had been established considering the complexity of the investment approval process and large number of line agencies, he said.

The Minister added that according to President Gotabaya Rajapaksa's 'Vistas of Prosperity and Splendour' policy statement, more attention had been paid to expanding new investment opportunities in the tourism sector.

"Keeping in line with the policy, the Government intends to develop the tourism industry by expanding the fields of recreation-based parks, religion, culture, national heritage, adventure sports, wildlife and local Ayurveda," Ranatunga said.

A key initiative to realise this strategy is entering into memoranda of understanding (MoUs) with multiple State sector agencies or institutions to speed up the facilitation of new developments and investment projects. "We have identified MoUs with 43 institutions and so far, 10 have been signed," Ranatunga added.