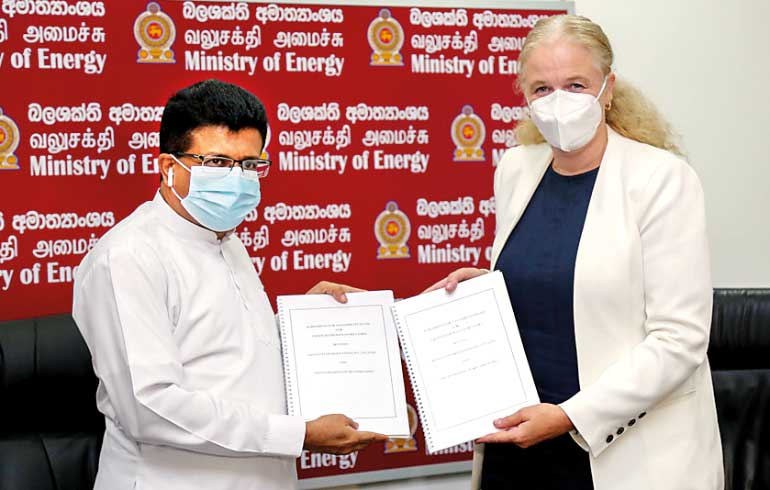 Energy Minister Udaya Gammanpila and Norwegian Ambassador to Sri Lanka Trine Jøranli Eskedal with the signed agreements on green hydrogen
Greenstat Hydrogen India signed an agreement with the Petroleum Development Authority of Sri Lanka (PDASL) yesterday to collaborate on a pilot project for generating green hydrogen in Sri Lanka.

The Government has taken a policy decision towards the goal of decarbonisation by the year 2050. To realise this goal, the country needs to gradually convert from fossil fuel to green energy production and consumption by changing energy supply

networks. Accordingly, steps should be taken to minimise gas emissions in the industries where there is electricity, transport, and thermal power utilisation. In these circumstances Greenstat Hydrogen India Ltd., which is an affiliated body of Greenstat AS of Norway, has agreed to conduct a feasibility study on a pilot project for generating green hydrogen utilising a combination of floating solar and wind.

Norwegian Ambassador to Sri Lanka Trine Jøranli Eskedal said: "I am pleased to see Norwegian companies showing an interest in key sectors in Sri Lanka, and I hope this study will contribute to highlighting Sri Lanka's potential for transitioning towards renewable energy and renewable fuel sources."

"We are thrilled to become a close partner with the authorities of Sri Lanka, and we believe the country has a great potential to not only to serve its own needs of green hydrogen (emission free energy carrier), but also become a net exporter in the future.

"It is with great pleasure and excitement Greenstat Hydrogen India today signed the agreement with the Sri Lanka Petroleum Development Authority, on this ground-breaking collaboration," Greenstat Hydrogen India Chairman Sturle H. Pedersen said on the collaboration.

He said Greenstat has great expectations of the project becoming a crucial instrument for Sri Lanka to establish a green hydrogen roadmap as well as gaining experience with green hydrogen technologies.

On 1 February, the Cabinet of Ministers granted approval for the proposal submitted by the Energy Minister Udaya Gammanpila to enter into an agreement between PDASL and Greenstat Hydrogen India Ltd. to conduct the feasibility study. The project would not involve funding from the Government of Sri Lanka.