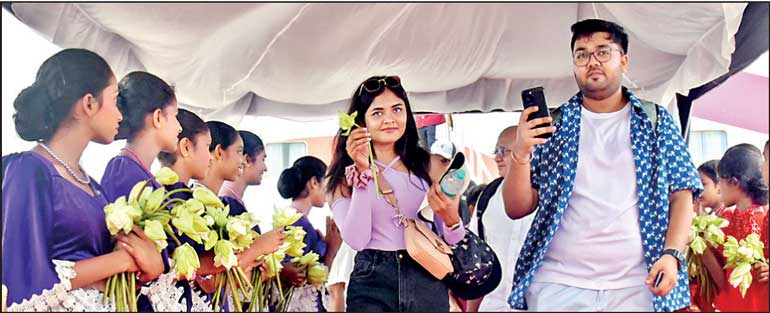 ---
Hayles Group welcomes 'Empress' of Cordelia Cruises in her maiden call to Sri Lanka
First international destination for Cordelia, first dedicated cruise to boos arrivals in SL
SL to receive over 80,000 Indian tourists, make an impact of $ 18 m in next 4 months alone
Cordelia Cruises President and CEO Jurgen Bailom says partnership with Advantis first step in positioning SL and India as premier destinations for discerning travellers across South Asia
Advantis Managing Director Ruwan Waidyaratne says they look forward to working in close partnership with Cordelia
SLPA Chief Keith Bernard explains plan to expand facilities at ports around SL
Sri Lanka Tourism Director Dushan Wickramasuriya hopes for record leisure cruises to arrive this year
---
By Charumini de Silva in Hambantota
---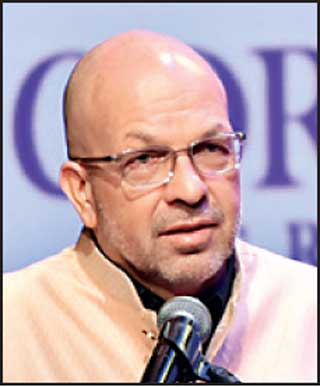 Cordelia Cruises President-CEO Jurgen Bailom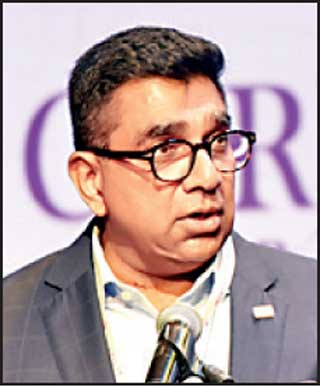 Advantis Group Managing Director Ruwan Waidyaratne
With the operations of the first-ever dedicated luxury Indian cruise line Cordelia, Sri Lanka Tourism anticipates a greater boost this year with 80,000 Indian visitors and an expected economic impact of $ 18 million over the next four months.

The transportation and logistics arm of the Hayleys Group, welcomed the Empress of Cordelia Cruises carrying 1,600 high-end passengers onboard from Chennai, India made her maiden international voyage and call at the Hambantota International Port yesterday morning.
"We are delighted to welcome Cordelia Cruises and embrace a completely new segment of luxury cruise tourists. This marks a significant milestone in our efforts to revitalise and unlock substantial commercial opportunities for the tourism value chain, as well as capitalise on our island's vast untapped potential as a global hotspot for cruises," Hayleys Group Chairman and Chief Executive Mohan Pandithage said.

Cordelia Cruises President and CEO Jurgen Bailom said they have estimated to generate an $ 18 million economic impact in Sri Lanka over the next four months.

"This can be in short supply excursions, regular costs and other business we aim to bring into Sri Lanka," he added.

Noting that Sri Lanka is Cordelia's first international destination, he said the cruise will sail to Trincomalee and Jaffna whilst plans are underway to start trips to Colombo after monsoon rains.

"Our partnership with Advantis is the first step in positioning both Sri Lanka and India as premier destinations for discerning travellers across South Asia. By seamlessly integrating these unique and diverse holiday destinations, we aim to chart new horizons for tourists and stimulate economic growth for both nations," he added.

Advantis Managing Director Ruwan Waidyaratne said they look forward to working in close partnership with the Cordelia team to attract at least 80,000 visitors within the next four months alone.

"As an island nation, Sri Lanka has attracted maritime trade and travel for centuries. However, in the modern age, our nation is yet to leverage its natural advantages to the best of our ability. Through our alliance with Cordelia Cruises, we can facilitate the first-ever cruise sailing operation around the island, offering a remarkable opportunity for travellers to explore the rich heritage, breath-taking natural beauty, and vibrant cultural diversity of Sri Lanka," he added.

With India being the biggest source market for Sri Lanka, Waidyaratne said there is huge potential to tap into the 28 million India's outbound travel market by 2025.
India is the top source market for Sri Lanka pre-pandemic and about 1 million visitors arrived in the country in 2018. In May, Sri Lanka welcomed 23,016 Indian travellers reflecting 28% of total arrivals in the month. In the first five months, 17% or a total of 89,363 Indian tourists arrived in Sri Lanka.

Sri Lanka Ports Authority Chairman Keith Bernard said having a dedicated cruise line from India signifies the potential Sri Lanka Tourism has. As per him around 30 cruise ships called in Colombo in the first four months as against 7 cruise lines called in 2022.

"We are expanding our facilities at the posts around the country to support the tourism industry. Work is underway to build passenger terminals in Colombo and Galle port," he noted.

Bernard said Galle Port has already called for Expressions of Interest (EoIs) to develop it to be a dedicated facility for tourism activities.

Sri Lanka Tourism Director Dushan Wickramasuriya said they predict the number of cruises called in Sri Lanka in 2018 will be surpassed this year.

Hambantota International Port Group Johnson Liu said they are determined to strive to provide the best service to its customers and had upgraded its facilities including the duty-free.

He also emphasised the keenness to boost the partnership with the Hayleys Group.

The Travel and Aviation arm of the Advantis Group will serve as the General Sales Agent, while Clarion Shipping, a subsidiary of the Advantis Group, will act as the Port Agent for Cordelia Cruises in Sri Lanka.
Pix by Ruwan Walpola