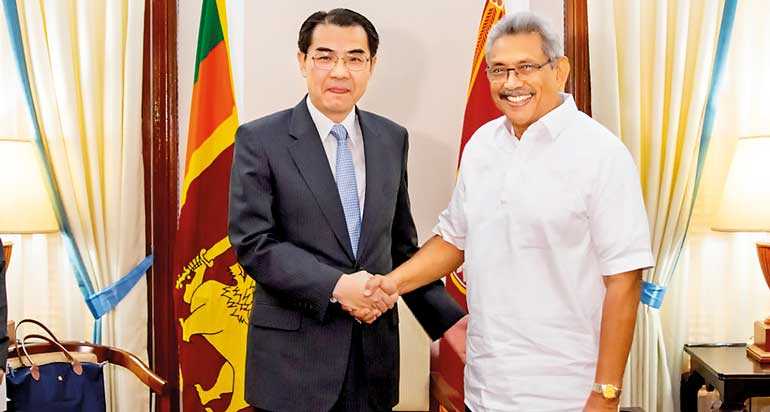 President Gotabaya Rajapaksa meeting Chinese special envoy Wu Jianghao yesterday
---
Special envoy meets with President, PM, FM, Speaker
Focus on taking forward large projects including Colombo Port City and H'tota Port
Highlights existing consensus as basis to draw up new blueprint for future cooperation
Strengthen existing robust political trust between both countries
President invited to visit China


China and Sri Lanka yesterday agreed to speed up the implementation of large-scale projects and draw up a "new blueprint" for future cooperation following high-level meetings between President Gotabaya Rajapaksa and Chinese special envoy Wu Jianghao.

The large-scale projects will also focus on the Colombo Port City project and the Hambantota Port venture.

A Chinese delegation headed by former Chinese Ambassador to Sri Lanka, Wu Jianghao, as the representative of State Councillor and Foreign Minister Wang Yi, and other embassy officials called on President Rajapaksa. He also met with Prime Minister Mahinda Rajapaksa yesterday as well as Speaker Karu Jayasuriya, United National Party (UNP) Leader Ranil Wickremesinghe and Foreign Minister Dinesh Gunawardena.

Following the meeting with President Rajapaksa, the Chinese embassy in a statement said that both parties agreed to further strengthen the "robust political trust between" both countries.

Sri Lanka and China agreed to enhance their practical cooperation and "speed up the implementation of the big economic projects, including the Colombo Port City and the Hambantota Port according to existing consensus and, on that basis, draw up the new blueprint for future cooperation" the communique said.

Hot on the heels of President Rajapaksa's win, China had extended an invitation to visit Beijing. Chinese Ambassador Cheng Xueyuan extended the invitation for him to visit China at "a mutually convenient and mature time" a spokesman for the embassy said.

The visit comes days after President Rajapaksa told an Indian journalist in an interview that he would renegotiate the Hambantota Port lease agreement, terming it a "mistake" and calling on the Chinese company to be open to the move.

In the interview, President Rajapaksa claimed that even though China was a good friend, he was not afraid to say the joint venture inked by the former Government was a mistake, pointing out that public sentiment was against the deal. President Rajapaksa opined that handing over control of a valuable asset of economic importance such as a port should not be done.

Sri Lanka and China signed a $ 1.1 billion deal in 2017 which paved the way for a Chinese firm to lease the port for 99 years for commercial activity. The deal was signed between the Sri Lanka Ports Authority (SLPA) and China Merchants Port Holdings. Under the deal, the Chinese firm holds a 70% stake in a joint venture with SLPA to run the port for 99 years for commercial purposes. The Chinese firm invested an additional $ 600 million to make the port operational.