Main Opposition says it is likely too late for Sri Lanka to go to IMF
Urges for tabling of IMF's Article 4 report in Parliament and reach all-party consensus
Opines home-grown solution will not work
Questions the basis of proposed fuel price revision
---
By Darshana Abayasingha
---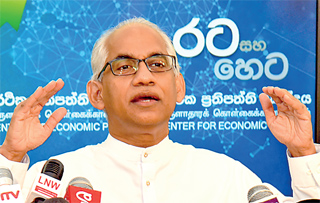 SJB MP Eran Wickramaratne
SJB MP Dr. Harsha de Silva
---
It is too late now for Sri Lanka to receive help from the IMF as the country's debt situation has most likely reached unsustainable levels, averred SJB MP Dr. Harsha De Silva, adding there is no home-grown solution to the current crisis and that Sri Lanka must work with the international community to overcome this situation.


Addressing a media briefing yesterday, De Silva noted the IMF will present its Article 4 report on Sri Lanka to its board of directors on Friday (25 February) and demanded that the Government table this report in parliament immediately. Therein it must "come to a collective agreement with all parties to devise a program of action and solutions to save the people of this country." The IMF can only lend if the country's debt is sustainable without restructuring and it does not seem to be sustainable anymore, the MP said.


"The report of the IMF will determine what steps the IMF could take with regards to Sri Lanka if at all. The finance minister says he is ready to speak with all creditors and on the other side the Central Bank Governor says they will not go to the IMF or speak to creditors. But there is a question as to how much longer this country can run? We told the Government Sri Lanka needs to obtain international support for this crisis as there is no home-grown solution now. Had we gone to the IMF in November 2020, we could have received support without having to restructure loans. This is a problem the Government created on its own," De Silva noted.


The SJB MP remarked the IMF in its report of December 2019, following the Easter Sunday attacks and the Constitutional Crisis of 2018, had found Sri Lanka's debt to be sustainable, but warned it could change if the Government fiscal policy and revenue program were to change dramatically and if the current account would come under stress. This is exactly what has taken place now, he added. "When debt is unsustainable it requires serious structural reforms and debt restructuring and we will have to engage heavily with creditors. When the world is presenting facts and if we dispute them, then we must have a better plan in place. Where and what is that plan?" he asked. Tourism is not the solution as made out by some, he added.


Joining the discussion, MP Eran Wickramaratne, asked the Government to reveal on what scientific basis it proposes to raise fuel prices. He pointed to reports the CPC would revise prices of fuels over and above the recent revision by the LIOC, and averred this would have a significant impact on inflation and quality of life. Wickramaratne pointed to the fuel price formula introduced by the previous Government, and noted that price was determined by global markets and consumers received the benefit when prices came down.


"The problem is that this Government's economic management is weak. They have got their policies all wrong. Sri Lanka's renewable energy generation is at about 37%. The president said he will make it 60% by 2030. We cannot get to 60% in eight years. It's a fairy tale to obtain votes. The CEB has no such plan for renewable energy and in fact states they will construct more coal power plants."


"The CEB was told to procure fuel on their own. For this they need to receive facilities from the two state banks to obtain required foreign currency. The two state banks already owe over $ 700 million, and they are also coming under stress. These burdens are in addition to corruption that take place during purchase of fuel. There are no pre-qualification tests and tenders awarded to exorbitant prices," the SJB MP charged.

The Government is only interested in political play. People do not have food, medicines and electricity. But the Government is pumping Rs. 100 billion to the provinces targeting elections, they added.
Pix by Ruwan Wapola