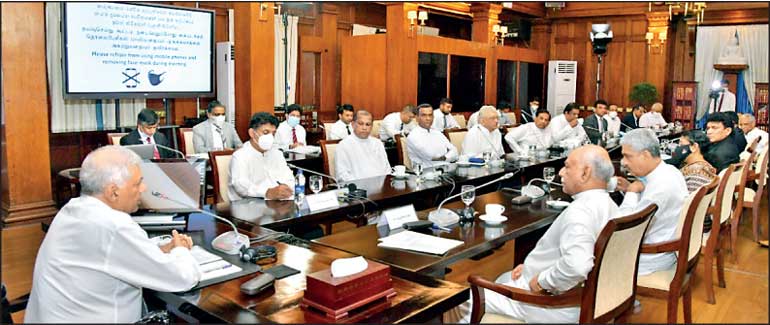 President proposes 'all-party governance' in lieu of 'all-party Government'
Sajith Premadasa lists important conditions
Sarath Fonseka says all-party Govt. not helpful at this juncture
SJB to announce final decision soon
---
By Maneshka Borham
---
President Ranil Wickremesinghe has proposed the title 'All-party governance' in lieu of the term 'All-party Government' if the main opposition is not agreeable to the latter when forming the proposed Government in the coming days.

The President made this suggestion during a meeting with members of the Samagi Jana Balawegaya led by its leader Sajith Premadasa yesterday at the Presidential Secretariat.

The Samagi Jana Balawegaya attended the meeting after being invited by the President to discuss the possibility of forming an all-party Government.

"We have invited all parties to join us to form an all-party Government. We are carrying out discussions regarding this. The economy is in a precarious state. To recover from this situation everyone must come together, accept the Ministerial position and form an all-party Government to rebuild this country" the President said during the meeting. "I have worked with you all and we can once again work together. There is no issue" he said.

However, in a tweet SJB MP, Dr. Harsha De Silva said some MPs from the party were positive about the proposal while others appeared negative. In fact, addressing those gathered SJB MP Field Marshal Sarath Fonseka in particular said he does not believe an all-party Government is a solution at this juncture. "Creating an all-party Government is not helpful. I do not see it as a solution to the existing problem. What is needed is to find quick solutions to the problems faced by the country and the people at present." he said.

Expressing his views, the SJB leader Premadasa told the President he came to the meeting in a positive mindset and wished to see how all parties could work together through Parliament. Premadasa also requested the President to lift the state of emergency and release those linked to the citizen's struggle who are currently in Police custody while adding the Government must stop the intimidation of protestors and carrying out arbitrary arrests.

He also called on the re-enforcement of the 19th Amendment to the Constitution in its entirety. Premadasa also said the party is willing to continue these discussions with the President while understanding the current political scenario is in no way normal. The next round of discussions between the President and the SJB will be held on 9 August.

Following the meeting, Madduma Bandara said the meeting was successful and a final decision will be made soon.

General Secretary of Samagi Jana Balawegaya Ranjith Maddumabandara, Members of Parliament Mano Ganesan, Kabir Hashim, Dr. Harsha de Silva and others as well as Prime Minister Dinesh Gunawardena, President's Secretary Saman Ekanayake and President's Additional Secretary Attorney Chaminda Kularatne were also in attendance.