Claims SDGs have become just a number to highlight at forums
Outlines increased food cost, Wilpattu deforestation, increase of elephant deaths as classic examples of short-sighted policies, repercussions
Stresses sustainability an agenda not only for governments, but responsibility of all individuals and institutions
Says country has failed to come up with solid policies and resolutions as people's mindset has not changed
Calls on corporate sector to develop business goals in line with sustainable business practices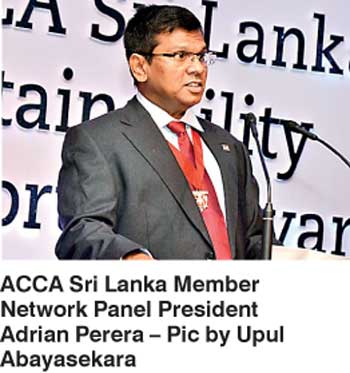 By Charumini de Silva

In afrank appraisal of sustainable development in Sri Lanka, a top finance professionalclaimed the Government's short-sighted policies hadresulted in complex impacts to the economy, insisting that in reality Sustainable Development Goals (SDGs) had become just a number to highlight at forums.

"The Government recently came up with a policy report to achieve the SDGs by 2030, which is easier said than done. Sri Lanka was ranked the fourth riskiest country in the world due to climate change and this is a classic example where plans are made without taking into consideration the ground reality. The reality is that SDGs have become a number for the Governmentto highlight at forums," ACCA Sri Lanka Member Network Panel President Adrian Perera said at the ACCA Sustainability Reporting Awards 2017 recently.
With certain areas in Sri Lanka still facing a severe drought, leading to the Government considering artificial rain, emergency power purchase and import of essential food items, he pointed out that it had resulted in a significant increase in food costs, while also causing the eruption of other social and political issues.

"In a developing country, rapid urbanisation is a common phenomenon due to changes in social and demographic structures. Drawing away human capital from the agricultural sector to the modern world further aggravates the situation. Unfulfilled promises due to short-sighted policies by governments further complicates food security in countries, hampering the agricultural sector. This is a reality we face today even in Sri Lanka," Perera said.

He highlighted Wilpattu deforestation and increase in deaths of elephants as classic examples of short-sighted policies and their repercussions.

"We try to give tablets to students when there are schools in rural areaswhere the students don't have chairs to sit on. More people are killed through small arms than nuclear weapons; however the discussion is more on nuclear weapons. We believe in organising and attending events to protectthe rights of animals rather than protecting the rights of our children or neighbours."

Perera emphasised that people in Sri Lanka have not realised the importance of sustainability and have not come around to the mindset that it is the responsibility of all, due to which the country had failed to formulate solid policies and resolutions.

"We do not consider throwing garbage in streets as an issue since we consider cleaning up as the duty of the Government. Due to this attitude, todate successive governments have not been able to give a concrete solution to the garbage issue; the only solution is finding another site before election," he quipped.

He asserted that sustainability was an agenda not only for governments, but the responsibility of all individuals and institutions,pointingout that unless this was realised, no matter what statistics say, the world would not be able to achieve sustainability objectives.

Perera called on the corporate sector to develop business goals in line with sustainable business practices, noting this was criticaltoform the bedrock for stronger market leaders in Sri Lanka.

"Sri Lanka, being an island with a rich heritage, needs a mindset change when strategising our businesses to move forward for the next phase of growth.We are very good at writing reports about sustainability, but we should be equally good in developing business goals for sustainable business practices rather than confining ourselves to planting trees or following the most sought-after trend. Getting awards is good, however sustainable business practices are key for continued success," he emphasised.