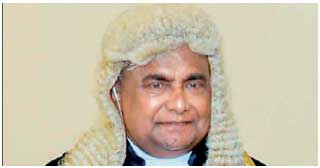 Speaker Mahinda Yapa Abeywardena
Speaker Mahinda Yapa Abeywardena yesterday informed Parliament that the Supreme Court has found several clauses of the proposed Anti-Corruption Bill to be inconsistent with the Constitution.

Reading out the determination of the apex court, Abeywardena said accordingly Clauses 1, 2(1)(f), 2(2), 3(2), 4(1)(a), 4(1)(b), 4(3), 17(1), 21, 31(2), 163(2)(h), 40, 48(3), 49(1)(f), 50(1)(a), 53(1), 62(1), 65, 67(5), 71(6) & (, 80, 93, 99, 101, 112, 149 and 162 of the proposed Bill are inconsistent with the Constitution.

The Transparency International Sri Lanka on 10 May filed a petition with the Supreme Court, challenging the Anti-Corruption Bill. The Bill was challenged in terms of Article 121(1) of the Constitution.

However, Abeywardena said these inconsistencies will cease if the amendments as set out in the Determination of the Supreme Court are made to the Bill.

In addition to the proposed amendments, the determination also noted that the Additional Solicitor General informed the Court about planned amendments to Clauses 8(3), 136, 141, 142, and 156 of the Bill to address concerns raised by the petitioners.

The Government drafted new anti-corruption legislation in April after the International Monetary Fund (IMF) approved a $ 2.9 billion loan and urged Sri Lanka to address corruption and fraud in the country.