Tourism Minister Prasanna Ranatunga directs officials to work collectively to initiate development projects
---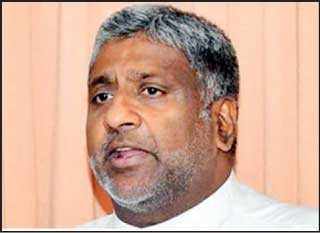 Tourism Minister Prasanna Ranatunga
---
The Tourism Ministry has allocated Rs. 519.56 million to implement annual development plan for the year.This was
revealed at a discussion held to review the progress of development projects implemented by the Tourism Ministry yesterday.

Of the total allocation, Rs. 37 million has been allocated for the development of tourist attractions, whilst Rs. 45 million has been allocated for human resource development in the tourism sector.

Another Rs. 10 million has been allocated for the Tourist Village Project and Rs. 62 million has been allocated for the development of railway stations as tourist attractions. A sum of Rs. 100 million has been allocated to revamp the ancient Dutch forts.

In addition, Rs. 265 million has been allocated for the construction of 30 intermediate houses adjacent to the Madhu Church in Mannar, a joint venture between Sri Lanka and India.

Under the infrastructure development of tourist attractions, a number of development projects have already commenced, including the construction of the Yala Galge entrance, the construction of the Madolsima Mini World's End (Punchi Lokanthaya) viewing room and infrastructure facilities in Bopath Ella.

Under the Human Resource Development Project of the Tourism Sector, training activities are being carried out to cover all the provinces of the island. As of 31 March, 1,042 persons have been trained at 21 centres in 11 districts.

Seven tourist villages are functioning under the Community Tourist Village Project. Steps have been taken to launch seven new websites for these tourist villages.

Badulla, Bandarawela and Nuwara Eliya railway stations are being refurbished under the Railway Station Modernisation Program.

Tourism Minister Prasanna Ranatunga instructed officials to work collectively and pay special attention to the implementation of the annual development plan of the Ministry.

The Minister emphasised that the Tourism Ministry and Sri Lanka Tourism Development Authority (SLTDA) need to jointly implement tourism development activities, adding that the development of infrastructure related to tourism zones should be done according to the needs of the region and the country.

"In some cases, various conflicts arise due to the development activities being carried out according to the needs of the officials. The development of infrastructure facilities in the tourism zones should be done in a manner that protects the tourist attraction and keeping in line with the needs of particular regions," he said.

It was revealed that the reconstruction work of Mannar, Kalpitiya and Batticaloa Forts had already commenced.

Tourism Ministry Secretary S. Hettiarachchi, Additional Secretary Deepa Sannasuriya and Sri Lanka Tourism Chairperson Kimarli Fernando also spoke.