Over 50,000 people express keenness to return whilst over 20,000 have returned
Around 6,000 people identified most vulnerable, objective to repatriate them in August
Two flights per day, operating to BIA and MRIA
Govt. assures to facilitate return of all Sri Lankan nationals wanting to come back
---
By Charumini de Silva
---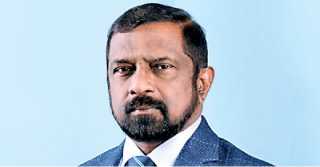 Additional Secretary to the President for Foreign Relations Admiral Prof. Jayanath Colombage
---
The Government yesterday said that the program to repatriate stranded Sri Lankans overseas was progressing well, noting that over 50,000 more people have expressed their keenness to return to the country.
"Over 20,000 Sri Lankans from 94 countries have now returned to the country so far. The focus now is to bring down the Sri Lankans stranded in the Middle Eastern countries and the Maldives," Additional Secretary to the President for Foreign Relations Admiral Prof. Jayanath Colombage told Daily FT.

He said priority will be given to people stranded in countries like Dubai, Abu Dhabi, Bahrain, Qatar, Jordan, Lebanon, Israel and the Maldives, while continuing to repatriate Sri Lankans stranded in countries like South Korea, Singapore, Malaysia, the UK, Australia, the US and China.

"We have identified around 6,000 people who are the most vulnerable, and the focus now is to bring them back during August," he asserted.

He also pointed out that 50,000 more people have expressed keenness to return to Sri Lanka.

Prof. Colombage said they expect to bring down around 600 to 700 Sri Lankans on a regular basis with two or more flights operating to both Bandaranaike International Airport (BIA) and Mattala Rajapaksa International Airport (MRIA).

"A decision was made to use both airports to reduce the burden on BIA. Now repatriation operations are being conducted at both airports," he added.

Although the BIA is expected to be closed till September as initially planned, Prof. Colombage assured that the Government would facilitate the return of all Sri Lankan nationals wanting to come back into the country.

Repatriations had initially been pushed to early September, after being suspended on 14 July in the wake of the unexpected spike of COVID-19 cases from Kandakadu Rehabilitation Centre, Senapura Rehabilitation Centre, and Rajanganaya in Anuradhapura District transforming into new clusters, and thousands having been taken into the quarantine centres. However, with the cluster now completely under control, and no threat reported in society, a decision was taken to resume repatriations from 1 August.

He said that after much deliberation, the Sri Lanka Army and Health Authorities gave the green-light to commence the repatriation of Sri Lankans who urgently need to be brought back into the country due to job losses and loss of their places of accommodation in their countries of stay.

Post-General Election, from 8 August, the Government recommenced repatriation on a continued basis with two flights per day.