UNP MP Athuraliye Rathana Thero is spearheading a move to form an all-party Committee to bring together the clashing political factions in national interests, even while other forces engage in different tactics.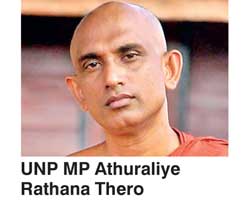 The deal, said to be in making by Rathana Thero, would see an all-party Joint Committee being established with inclusion of the Joint Opposition and the Joint Opposition ceasing their campaigns against the Government, and would also establish a road map for the next 15 months, soon after which an early Parliamentary election would be called for.

However, the deal would only go through if several conditions were met by the Government, including that the next President elected be non-partisan, changes to the electoral system, giving land to the landless, resolving the energy crisis, resolving the SAITM issue, upgrading the public transport system, uplifting the agricultural sector, and reviewing Free Trade Agreements to focus on local industries.

Political sources revealed that if these conditions are met and the agreement goes through, the Joint Opposition would withdraw the No-Confidence motion today (3 April).