Former PM tells in Parliament Finance Minister should inform House by Feb. on how he plans to address economic crisis
Insists forex crisis should not drag on
Says other countries in region have increased foreign reserves despite COVID-19
Warns new Special GST would create a mess
---
By Chandani Kirinde
---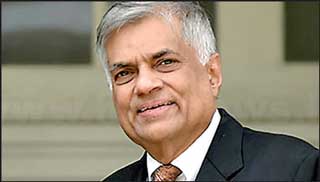 UNP MP Ranil Wickremesinghe
---
UNP MP Ranil Wickre-mesinghe said yesterday that the Finance Minister should inform the House by February if he plans to reach out to the International Monetary Fund (IMF) or place before the House an alternative plan to address the prevailing economic crisis in the country.
"We expect the Finance Minister to inform the House next month on how the Government plans to deal with the economic situation. We cannot allow this problem to drag on any longer. If the Government has a good alternative, we will accept it. Otherwise, it will have to be the IMF," Wickremesinghe said during the debate on the President's Policy statement.

He said the Cabinet must take a decision by February and inform the House.

Wickremesinghe also pointed out that while the President, in his address to the House on Tuesday, had spoken of the foreign exchange crisis, he had not given any solutions to the problems facing the country.

"We cannot blame COVID-19 alone for the situation in the country because all other countries in the region have increased their foreign reserves in 2021 despite the pandemic," the UNP Leader said.

Wickremesinghe said those bearing the brunt of the economic crisis are Samurdhi beneficiaries, three-wheeler drivers, those engaged in small business and low-income earners.

"The open economy created a middle class, but due to this crisis even the middle class will collapse," he said, adding that there are few companies that are benefitting while the rest of the country is suffering.

The UNP Leader also warned the proposed Special Goods and Services Tax (GST) would create a big mess.

"Nowhere in the world do they have both the GST and the VAT because it is the same goods and services that are taxed," he said.

Wickremesinghe also said that the new Bill gives quasi-judicial powers to the Finance Ministry and bypasses the Inland Revenue Department and creates a big mess.

He said the Opposition's task is not to safeguard or bring down the Government but to safeguard the downtrodden people.

"We have to realise this reality and move forward from this new session of Parliament," he added.