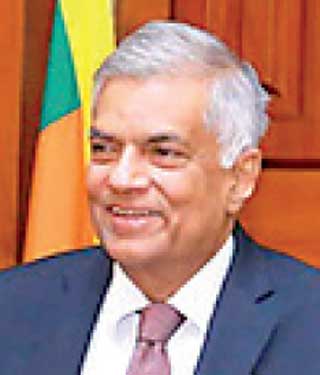 MP Ranil Wickremesinghe
---
MP and former Prime Minister Ranil Wickremesinghe on Saturday insisted that a program with the International Monetary Fund (IMF) was critical to wade off the impact of the growing foreign debt repayment crisis and
homegrown solutions were insufficient.

"Unlike in the past, Sri Lanka's debt problem has spiked at a time when there is a global debt problem. This makes the situation more challenging and complex. Sri Lanka is a highly import-dependent economy.

Government shouldn't sell State assets to ease off the shortage of foreign exchange to have breakfast but reinvest those proceeds back in the economy. Going to the IMF is the best solution," Wickremesinghe emphasised. With reference to homegrown solutions, he referred to the mess caused by the Government in promoting 'Dammika paniya' as one of the failed measures earlier on to curb the spread of the COVID-19 pandemic.

The former Prime Minister also stressed that Sri Lanka must use the current situation to forge ahead with structural and public sector reforms which were postponed due to political considerations in the past. The need for Sri Lanka to successfully manage geopolitics, opening up to attract more foreign investments from all over instead of a select few and enhancing exports were also emphasised by Wickremesinghe.