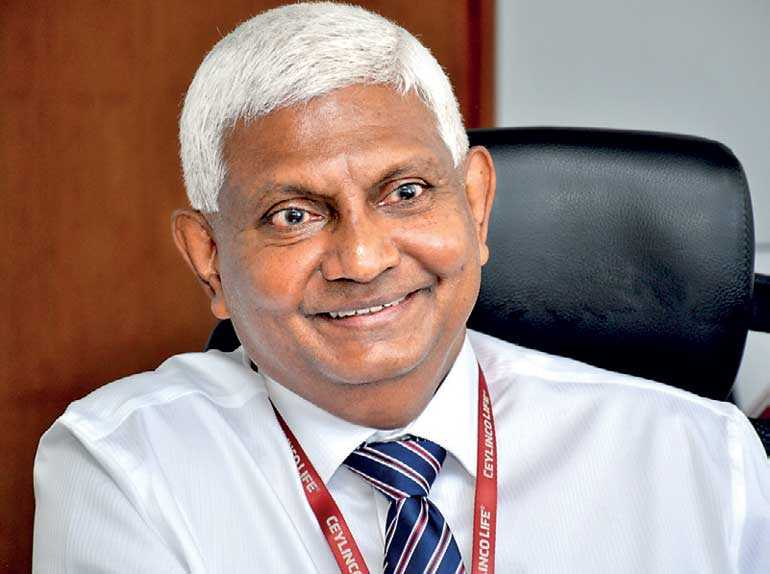 Rajkumar Renganathan - Pic by Lasantha Kumara
---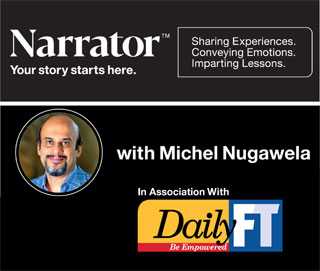 While CEOs and leaders focus on the future, we're asking them to pause, reflect on the past, and share the single-most important lesson they have learned.

Our lives and careers are works-in-progress, and we will always learn more in the future than we know now, but what insights could our younger selves - and other aspiring leaders

- embrace and act

on right now to live

a more positive,

productive, and

empowered life?

Today, Michel

Nugawela asks

Rajkumar Renganathan, Chairman of Ceylinco Life, what one piece of advice he would give his younger self if he could travel back in time

Advice to my younger self and aspiring leaders: Always stay true to yourself, your faith and your principles. If your boss asks you to do something that goes against your fundamentals, be polite but refuse. Whatever the pressures – stand by your beliefs.

The biggest challenge I faced was the collapse of the Ceylinco Group and the Golden Key Credit Card Company. Having seen the manner in which Golden Key operated, I knew it would happen sooner rather than later.

I always had differences with the former Chairman on certain issues. I would disagree if I felt something wasn't right or ethical. When it came to signing documents, I had to be very vigilant. There were also times he made disparaging remarks about me, but I didn't mind because I had stood by my principles.

As a member of the Ceylinco Group, the reputation I had carefully safeguarded – sometimes at great cost, and despite the Chairman's displeasure – was called into question. However, it wasn't only my integrity that was at stake, but also that of my colleagues and staff who had worked so hard to build up the Life division of Ceylinco Insurance.

As a Director of Ceylinco Consolidated, my deposits were frozen but I had no fears about going to Court. I represented my case and my deposits were subsequently released. Soon after the collapse of the Ceylinco Group in 2009, we also had to reassure the sales force and staff, which we succeeded in doing. As a result, very few in the agency force or the permanent staff left us.

We visited our customers, appraised them of what had happened and reassured them of our commitment. We took an immediate decision to repay any customer over the counter who asked for their monies, but actually there were very few such requests. Many finance companies in the group fell, but we weathered the storm.

Though we experienced a slight dip in 2009, we continued to grow and retain our market leadership. The very fact that we were one of two companies to survive the collapse of the group sent a clear message to the public: you had to be exceptionally strong to withstand the fall of the Ceylinco Group.

Advice to my younger self and aspiring leaders: No company is perfect, but there will be times you must question your tolerance of dishonesty and what is right and wrong.

It is essential to get your fundamentals right. The three principles I will never compromise are integrity, honesty, and meritocracy.

Honesty and integrity extend far beyond rupees and cents to your every action. It entails speaking the truth, giving credit where it is due, and never compromising your customers' interests while you do the best for your company. If a customer has been misled, we cancel the policy and return their money. We may also say goodbye to the agent. He could be a Million Dollar Round Table member, it's of no consequence.

Fair play is also essential if you want a meritocracy. People must be selected according to merit. Take the Ceylinco Life team; very few come from leading schools – they are drawn from different backgrounds but they all share a belief in the fundamental principles of integrity, honesty and meritocracy.

These fundamentals come from your faith, your family and your early days at school. All religions teach us what is right and wrong, and to think of others. Once you learn these teachings, they are reflected in how you lead your business and your daily life.

Honesty and integrity were integral to my upbringing. I am of mixed parentage. My father was Tamil and my mother Sinhalese. Fifty years ago it was a big decision for them to get married. Their families had little to do with them and they had to survive on their own merits. My father was a lawyer practicing in Trincomalee and my mother being an English graduate was in high demand as a teacher.

My parents worked hard, but money was never their ultimate goal. I would sometimes sit in my father's office and listen to him as he advised his clients. He always prevailed on them to speak the truth. He would never bend the facts when he appeared in Court. When he wrote deeds, he went to extra lengths to ensure the title was perfect. If it wasn't, he wouldn't be party to the transaction.

This is the environment I was brought up in, and these are the values I practice today.

Advice to my younger self and aspiring leaders: Never compromise your principles. If you do, you will lose the respect of your colleagues and staff and ultimately your ability to manage effectively.