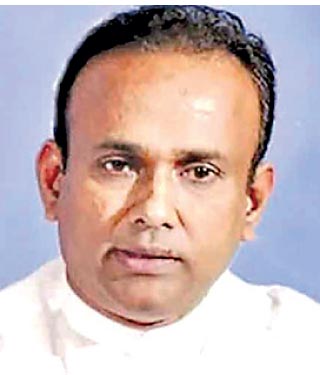 Minister Dr. Ramesh Pathirana
---
The Government yesterday said the Rubber Research Institute (RRI) was liaising with global institutions to find a definitive treatment for the leaf disease affecting rubber production in Sri Lanka.

"The disease is affecting the productivity of the tree, but as of now, there is no definitive treatment found in the world for this," Plantation Industries Minister Dr. Ramesh Pathirana said at the post-Cabinet meeting media briefing yesterday.

The rubber industry last week warned of a 15-20% drop in production this year, as leaf disease spread rapidly without enough fungicide to combat it or fertiliser to help trees recover amid an agro-chemical import ban.

Minister Pathirana said the RRI was also experimenting with other fungicides to control the disease.

"There is also a difficulty in finding a proper spraying mechanism," he added.

About 20,000 out of 107,000 hectares cultivated by large farms and small holders have been hit by the Pestalotiopsis fungal leaf disease.

The industry pointed out that if the disease spreads to immature plants, their long-term growth would be badly affected.

Natural rubber exports in the first seven months of 2021 have risen by 44% to $ 23.5 million, while in July they rose by 12% to $ 3.3 million. Rubber products exports rose by 42% to $ 593.1 million in the first seven months and by 13.6% in July to $ 93.4 million.