Southern Expressway and Outer Circular Highway nets Rs. 4.5 b
Earnings from Colombo-Katunayake Expressway and Outer Circular Highway generate Rs. 4.3 b
2021 total traffic through expressway network was 38.6 m
---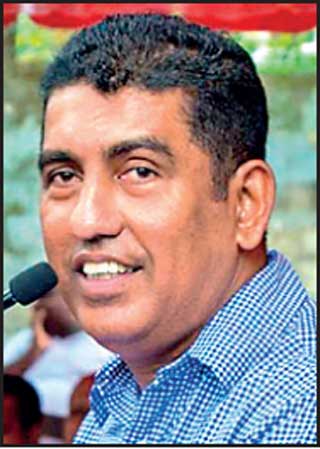 Highways Minister Johnston Fernando
---
The Road Development Authority (RDA) had achieved the highest-ever revenue of Rs. 8.8 billion via expressways in 2021, reflecting a 21% increase from the previous year.
The outstanding performance is amidst the disruptions caused by the pandemic, particularly during the period from mid-May to end October.

In 2021, the total toll revenue of Southern Expressway and Outer Circular Highway was Rs. 4.5 billion, whilst earnings of Colombo-Katunayake Expressway and Outer Circular Highway was Rs. 4.3 billion. Accordingly, RDA has collected an average Rs. 734 million monthly through the expressway network.

As per the Central Bank Annual Reports, overall revenue generated from expressways in 2020 was Rs. 7.3 billion; in 2019, it was Rs. 8.6 billion; and in 2018, it was Rs. 8.4 billion. The commuter usage dropped owing to the Easter Sunday attacks in 2019 and COVID-19 outbreak followed travel restrictions in 2020.

"The revenue generated through the expressway is commendable and a great recovery of the economic activities overall considering the challenges faced during 2021. The bulk of the revenue were generated as a result of increased leisure travels by the general public following lockdowns and festive seasons," Highways Minister Johnston Fernando told the Daily FT.

Last year, the total toll revenue collected via Southern Expressway from Kottawa – Godagama was Rs. 3.2 billion, whilst Southern Expressway extension from Palatuwa to Barawakkumbura was Rs. 1.3 billion. The toll income of Colombo – Katunayake was Rs. 1.8 billion, while the Outer Circular Highway from Kottawa to Kerawalapitiya was Rs. 2.5 billion.

Total traffic through the expressway network for the entirety of 2021 was 38.6 million (38,663,651 million), where monthly traffic volume usage was 3.22 million. On average, over 107,000 vehicles used the expressway network last year.