By Divya Thotawatte
The public corporate sector should increase its efficiency to match the private sector, stated State Minister of Finance Eran Wickramaratne, speaking at the recently-held launch of 'Rockstars – Growing Stellar Performers in the Organisation'.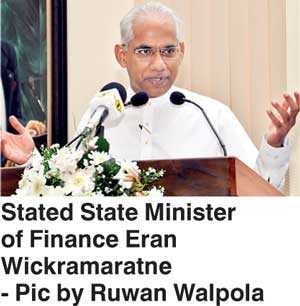 Minister Wickramaratne said: "I have a very private sector corporate mentality and I'm transforming slowly into a more public sector. I've seen very big positives in the private sector and I'm often wondering how we could create the same dynamism in the public sector." According to the Minister, the public sector of the country comprises nearly 1.3 million people and as a ratio the population is one of the biggest in the world.
Therefore to set this country on a different trajectory the Government has to really think about how it is going to change the public sector, he asserted.
Wickramaratne said that it was more complicated than just increasing salaries.
"Some of the finest brains, the finest minds in the country, are in its public sector, but then 30 years later, the achievements are not that great as a society and as a country. If you take the same Sri Lankan and put him in another environment, in NASA, in USA, Australia or maybe in Singapore, they begin to show their real potential. Somehow or the other in the environment that we have provided in the public sector here, we have not seen those outcomes. It's nothing to do with the individuals because the best and the brightest are there. It is something about the environment that we created for ourselves over the last 17 years at least," he added
"Even as we think about the concepts I think that we can transform our country and I think that we can transform our public sector," stated the Minister.
'RockStars – Growing Stellar Performers in the Organisation,' written on the P3 Growth Model which was authored by Rozaine Cooray and Dr. Pujitha Silva, was launched with attendees including corporate and HR leaders from leading organisations in the country.