By Charumini de Silva
---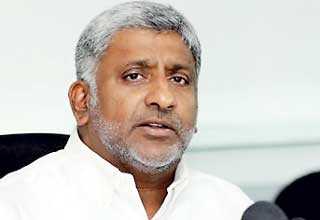 Tourism Minister Prasanna Ranatunga
---
Tourism Minister Prasanna Ranatunga yesterday said the proposal to bring small tour groups from select countries to Sri Lanka was still under discussion and would be pursued once health authorities provided clearance.

"We have discussed this opportunity of bringing down group travellers from Europe, Far East Asia and Russia at the COVID-19 National Task Force meetings as well, but approval was not granted by them to allow any foreigners in the country due to the COVID-19 pandemic," Ranatunga told the Daily FT.
The Tourism Minister also said that this opportunity to bring
back travellers in groups or in travel bubbles was discussed among many other authorities and stakeholders to support the sector post-COVID-19 pandemic.
"This was just an idea that we wanted to pursue post-COVID, but we have not sought Cabinet approval in this regard," he said.

Ranatunga further noted that Sri Lanka Tourism was working on multiple strategies and ironing out issues related to the industry to ensure that the sector would have an organised structure to continue with once the Government reopened the airport for tourists.

Sri Lanka Tourism Development Authority (SLTDA) data depicted the dismal '0' for tourist arrivals in the months of April, May, June, July, August and September. Zero figure for six consecutive months has forced the first nine-month cumulative tourist arrivals number to reflect a drastic 63.1% plunge compared to 1.4 million recorded for the same period a year earlier — a direct impact of the COVID-19 pandemic.

The historic development is in view of Sri Lankan borders closed for tourists, a move applied by most countries in line with measures to stem the spread of the COVID-19. The Government terminated the arrival of all passenger flights and ships into Sri Lanka from 18 March.