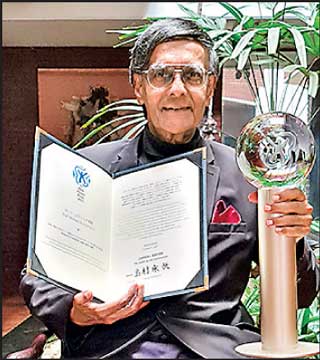 Prof. Mohan Munasinghe with the 2021 Blue Planet Prize trophy and certificate
---
Prof. Mohan Munasinghe has received the 2021 Blue Planet Prize for his deep research on environment and sustainability, bringing great honour to Sri Lanka.


The Blue Planet Prize, sponsored by the Asahi Glass Foundation, is the Nobel equivalent, and top global award for environmental sustainability.

It is presented to those who have continuously contributed to improving the global environment and making the world a better place for us all.

The award recognises Prof. Munasinghe's pioneering ideas like sustainomics framework, sustainable development triangle, Millennium Consumption Goals (MCG) and balanced inclusive green growth (BIGG) path, which have been applied globally. They contributed to key international agreements like the 1992 Agenda 21 and UNFCCC, 1997 Kyoto Protocol, 2005 Copenhagen Accord, 2015 Paris Climate Agreement and UN 2030 Agenda and Sustainable Development Goals.

Prof. Munasinghe, as Vice Chair of the Intergovernmental Panel on Climate Change (IPCC), shared the 2007 Nobel Peace Prize.

Prof. Munasinghe is Chairman of the non-profit Munasinghe Institute for Development (MIND), a UN recognised centre of excellence working globally on all aspects of sustainable development, as well as the MIND Group in Colombo, which includes MIND AM (focusing on data analytics and management), Carbon Consulting Company, Sustainable Futures Group, Eureka Technology Partners, 24/7 Techies, and Reap Digital. He is Chairman of the President's Expert Committee on Sustainable Sri Lanka 2030 Vision and Distinguished Guest Professor at Peking University, China.