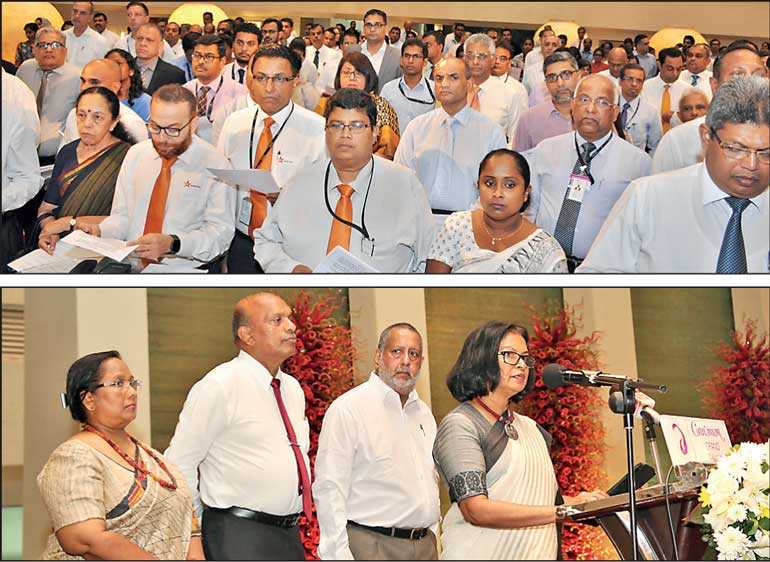 ---
Representatives of the private sector yesterday took a Pledge for Unity, a national initiative, marking one month since the Easter Sunday terror attacks in the country.

Ceylon Chamber of Commerce CEO Dhara Wijayatilake said a group of nine chambers met last week to discuss the present situation in the country. "We decided that much has to be done to reunite a temporarily-fragmented Sri Lanka," she added.
"We discussed that the events that happened one month ago and also last week are not representative of the people we are as Sri Lankans. We decided that we would ask the business community to take a pledge that we would work towards the goal of uniting our people and that we would thereby inspire everyone in this country to do the same," Wijayatilake said.

The pledge was taken in all three languages by over 300 corporates who assembled for that purpose at the Atrium of the Cinnamon Grand Hotel at 10 a.m. yesterday.

This oath was taken during the course of the day, at other corporate offices around the country.

The Pledge was as follows:

Whereas recent events that occurred in Sri Lanka have caused peace-loving Sri Lankans to take serious note of a possible threat to its unity;

Believing that a vast majority of Sri Lankans stand for unity, peace and harmony and that our country can continue as a safe nation for all, with commitment to that cause by all peace loving people

Accepting that the business community has a role to play in confirming that commitment and playing a proactive role in peace building

We, as representatives of the business community take this pledge today to work towards a united Sri Lanka.

We members of the business community, hereby pledge to work towards building a united Sri Lanka in which our people can live and work together in unity, in peace and in harmony, irrespective of differences in religion and ethnicity; to acknowledge the diversity within us and treat each other with respect at work and in the community.

We will, together, forge a true Sri Lankan identity and thereby restore Sri Lanka as a peaceful nation.