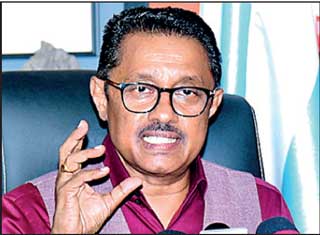 PUCSL Chairman Janaka Ratnayake
---
President Ranil Wickremesinghe yesterday criticised the Public Utilities Commission of Sri Lanka Chairman, emphasising that the powers to revise electricity tariffs are vested with the Power and Energy Ministry and the Cabinet of Ministers.
Speaking in Parliament yesterday, he said it observed that neither the Sri Lanka Electricity Act nor the PUCSL Act No. 35/2002 contain any provision to empowers the PUSL to vary or act in variants of such policy guidelines.

"I know it well, as I was the one who drafted the PUCSL Act and it comes within the ambit of my Ministry. I don't know as to why this Chairman misleads the people. I've got to meet this Chairman as I have received several complaints against him and his statements.
"He says that he does not allow increasing the electricity tariffs. He has not been vested with any power in that connection. How could the country run the economy, if we can't increase the electricity tariff?" President argued.

He also said that there was a conflict of interest with the PUCSL Chief as he owns the leading real estate group Trillium Ltd.

"There are a number of companies under this group namely Trillium Havelock Residencies, and Trillium Negombo Villas. I would have gone against the tariff hike if I owned real estate companies. I have received many complaints against the PUCSL. It is Parliament that has the authority to take action against him. Therefore, I request the House to debate it and come to a decision," he claimed.

PUCSL Chairman Janaka Ratnayake recently said that the Ceylon Electricity Board has not requested an electricity tariff revision so far, adding that there is no requirement for a revision at the moment. President requested Parliament to decide whether an inquiry should be conducted against the PUCSL Chairman.

President Wickremesinghe said that even though electricity tariffs were increased in August this year, the CEB is expected to incur a loss of Rs. 181 billion.

"The total loss since 2013 is Rs. 300 billion. If drought prevails next year, we need Rs. 420 billion for next year's electricity. If it rains, we need Rs. 352 billion, while Rs. 295 is required if it rains so much as to have floods. How are we going to find this money?" he asked.

"So, I will leave for the Members of the Parliament to decide what has to be done. I don't think this type of things can go on. You are a Chairman of a public corporation; you must know how you should behave. You are not a monkey who dances on an organ," the President said.