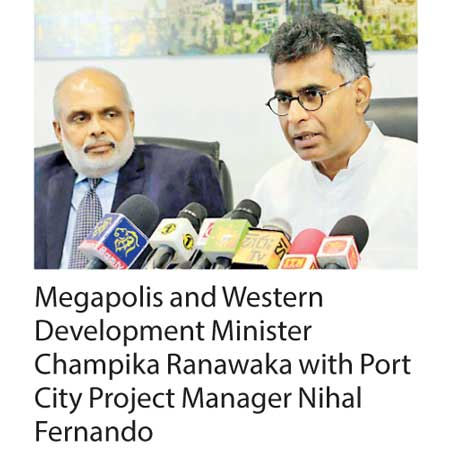 Champika says land would be handed over by UDA to CHEC to begin construction of Financial City
Legislation of Financial City to be presented to Parliament in April
Financial City and highways connecting
Port City to mainland to bring $1.8b investment
Claims 46% of FDI Sri Lanka received in 2017 came via Megapolis Ministry
Twenty hectares of the Port City project is likely to be vested with the Urban Development Authority (UDA) as early as March by President Maithripala Sirisena, which would then be handed over to the China Harbour Engineering Corporation (CHEC) to start construction on the $1 billion Colombo Financial City, a top official said yesterday.

Megapolis and Western Development Minister Champika Ranawaka told reporters local law grants ownership of all land and sea resources surrounding Sri Lanka to the president.

As the port city project is the first time new land has been created through reclamation its ownership would also fall under the President. Once the new acquisition of land was recognised by the President then CHEC would begin construction on the building expected to house the financial city operations by June.

"Previously no environmental feasibility study had been done regarding construction on the port city. We have now completed it, notified the relevant departments of the recommendations. We will not wait until all 269 hectares are reclaimed in 2019. We will begin construction on about 20 hectares of land," he said.

The Sri Lankan Government signed the construction agreement of the Financial City in Beijing, Ranawaka said, with an investment of $1 billion expected to flow into the country from June. Special legal provisions for the function of the Financial City, which is currently being formulated, are targeted to be passed in Parliament in April, the Minister added. He also detailed plans to build a public park on the port city, which would use compost from waste produced by Colombo residents.

"Total investment in the Financial City and the new highways to be built by CHEC is about $1.8 billion. We are proud of the fact that as much as 46% of the Foreign Direct Investment (FDI) that Sri Lanka received in 2017 came via our ministry. In fact we believe that construction generated by our projects and linked to the larger economy created as much as 25% of economic growth last year. This could be as much as 1% of the entire growth achieved for 2017," he said.