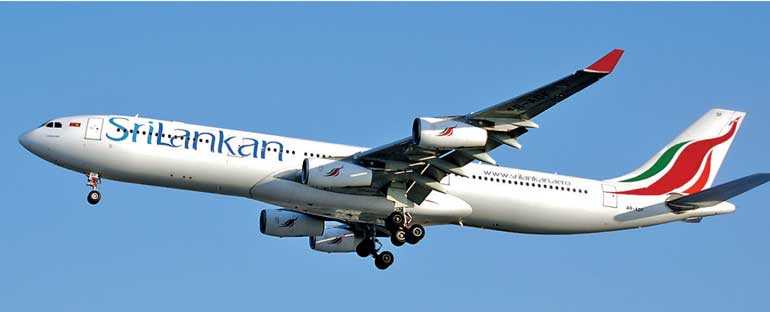 President's Office says full inquiry ordered

SriLankan Airlines says will cooperate fully with any Governmental agency in event of investigation, prosecution

SLA management directed to preserve, study all available internal documentation

UK Court documents reveals bribes up to $ 2 m, intended to obtain or retain business or advantage in conduct of business for Airbus, paid to wife of person concerned with purchase

Airbus employees offered up to $ 16.84 m to the company of intermediary to influence SLA's purchase of 10 Airbus aircraft, lease of additional aircraft

UK Court imposes record $ 4 b settlement, to be paid by Airbus over allegations of bribery involving several aircraft deals with multiple global airlines
President Gotabaya Rajapaksa yesterday ordered a full inquiry into allegations that the wife of a SriLankan Airlines executive was paid $ 2 million by Airbus through a Brunei shell company to obtain or retain business or advantage in the conduct of business with the national carrier during 2011-2015.
"The President has become aware of the allegations that have surfaced in the media, regarding an agreement between SriLankan Airlines and Airbus in which fraud may have taken place. He has directed that a full inquiry be conducted, and a report be submitted to him," a statement from the President's Office said on Sunday.
There were no details of which authorities were directed to hold the inquiry in the press release sent by the President's Office.
SriLankan Airlines, in a separate statement, said that it has become aware of a judgment in the United Kingdom related to a charge of corruption in the purchase and/or lease of aircraft between the period 2011- 2015 June, and the Chairman with the concurrence of the Board has directed the management to cooperate fully with any Governmental agency in the event of any investigation and/or prosecution.
"The management has also been directed to preserve and study all available internal documentation with a view to take all possible corrective future action," the SriLankan Airlines statement added.
The details of the bribe offered to a person connected to SLA came to light after judges in a UK court on Friday approved a record $ 3.9 billion settlement to be paid by Airbus over allegations of bribery.
Airbus has been under investigation by the UK's Serious Fraud Office (SFO) for four years, over allegations that external consultants used by the company paid bribes in Sri Lanka, Malaysia, Indonesia, Taiwan, and Ghana between 2011 and 2015. The investigation was launched after Airbus discovered inconsistencies in disclosures made about external consultants.
Documents made available by the SFO said one of the counts against Airbus was that between 1 July 2011 and 1 June 2015, Airbus failed to prevent persons associated with the Company from bribing others concerned with the purchase of aircraft by SriLankan Airlines from Airbus, namely directors and/or employees of SriLankan Airlines, where the said bribery was intended to obtain or retain business or advantage in the conduct of business for Airbus SE.
"In 2013, Airbus engaged the wife of a person concerned with the purchase of aircraft from SLA through a straw company (the Company of Intermediary). Pursuant to the engagement, Airbus employees offered up to $ 16.84 million to the Company of Intermediary to influence SLA›s purchase of 10 Airbus aircraft and the lease of an additional 4 aircraft. In fact, only $2 million of the $16.84 million was paid. The Company of Intermediary was approved by Airbus employees as a BP (Business Partner)," documents accessed by the Daily FT showed.
BPs were third parties used to increase Airbus' international footprint and assist Airbus in winning sales to customers in numerous jurisdictions. BPs are often more commonly referred to as intermediaries, or agents. When Airbus made a successful sale of aircraft, it would typically pay BPs a commission based on a percentage value of the sale, or a fixed amount per aircraft sold. The Statement of Facts prepared for the case showed that to disguise the identity of the person behind the BP, Airbus employees misled UK Export Finance (UKEF), a government body.
The Company of Intermediary was a straw company registered in Brunei and, at the time of incorporation on 5 October 2012, had one sole shareholder and one director: namely the Intermediary, and had no experience or personnel working in the airline sales industry but a senior Airbus employee supported the appointment of the Company of Intermediary, despite his compliance staff raising concerns.
On 29 March 2013, Airbus and the Company of Intermediary had entered into a consultant agreement in relation to the sale of six A330 aircraft, the sale of 4 A350 aircraft and the lease of an additional 4 A350 aircraft. Pursuant to this agreement the Company of Intermediary would be paid $ 1 million on the delivery of each A330 aircraft and $ 1.16 million for each A350 aircraft purchased by SLA and $ 300,000 for each additional A350 aircraft leased by SLA. On 30 October 2015 Airbus also signed a market share agreement, which stipulated that the Company of Intermediary would receive a $ 5 million lump sum if SLA did not purchase any competitor aircraft before 30 October 2015," documents tabled in the UK Court showed.
"At the Paris Airshow on 19 June 2013, pursuant to a purchase agreement SLA ordered 6 A330 aircraft. These aircraft were delivered. On 28 June 2013, SLA ordered 4 A350 aircraft under a second purchase agreement. These aircraft have not been delivered."
The documents also revealed that sometime between December 2013 and November 2015, SLA entered into a sale and lease back agreement with an aviation leasing company, for five of the A330 aircraft.
"Pursuant to this agreement the aviation leasing company would purchase the aircraft from Airbus and lease them to SLA. Four of the aircraft were due to be delivered in February, July, September and December 2015. In November 2014 Airbus employees submitted an application for export credit financing to UKEF in respect of 4 A330 aircraft, the first of which was to be delivered at the end of February 2015. The application required disclosure of any agent or consultant involved in the purchase agreement. Airbus indicated that it had used an agent on the SLA negotiation, and it wished to invoke the Special Handling Process within UKEF. This process ensured that only a small number of individuals within UKEF would be provided with the agent's details. UKEF would then perform due diligence on the agent.
"On or around 4 February 2015 Airbus submitted the agent details to UKEF. Airbus employee had signed the Agent Declaration, thereby acknowledging that the information contained therein could be relied upon by UKEF. The agents' details submitted falsely suggested that Intermediary was a 'he', and that the consultant agreement accurately reflected the total amount Airbus would pay. There was no mention of the market share agreement commission. UKEF informed Airbus of their dissatisfaction with the agent details provided and asked a series of questions, including why the agent was employed when their CV suggested they had little aviation experience and why the agent was domiciled and paid outside of Sri Lanka," the Court documents revealed.
The investigation examined transactions involving the United Arab Emirates, China, South Korea, Nepal, India, Taiwan, Russia, Saudi Arabia, Vietnam, Japan, Turkey, Mexico, Brazil, Thailand, Kuwait and Colombia, French prosecutors.
British prosecutors said Airbus failed to prevent individuals associated with the company from bribery involving Malaysia's AirAsia and AirAsia X, SriLankan Airlines, Taiwan's TransAsia Airways, Garuda Indonesia and Citilink Indonesia. They said the case also involved the sale of military aircraft to Ghana.
The overall deal, believed by anti-corruption experts to be the largest ever in a bribery case, ends an almost four-year crisis that led to a sweeping management overhaul, hampered sales and delayed plans to redeploy the firm's cash surplus.