President's Secy. issues circular calling for immediate stop to such intervention
Coordinating and Private Secretaries among those told not to interfere
Only Secretaries to PM, Ministers and State Ministers eligible to make official communications
Letters, telephone calls from others not to be entertained
The President's Office has prohibited Coordinating Secretaries, Private Secretaries or any other members of the personal staff of the Prime Minister, Ministers and State Ministers from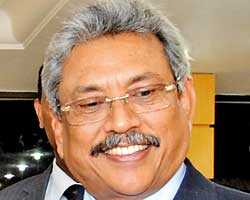 President Gotabaya Rajapaksa
intervening in official matters, either in writing or via telephone.

The directive to this effect was sent by President's Secretary Dr. P.B. Jayasundera to the Secretary to the Prime Minister and Secretaries of all Ministers and State Ministries on Friday.

The directive said that all official communications on behalf of the Prime Minister, Ministers and State Ministers regarding Government business, including details of ongoing projects, etc., should only be done by the Secretaries of the relevant institutions and not by any other officials.

Jayasundera directed that all personal staff members of the PM's Office, as well as Ministries and State Ministries, be made aware of this directive, and if such interventions have been made in the past, to ensure these are not repeated.

The circular issued by the President's Office also said that personal staff of the PM, Ministers and State Ministers be advised to conduct themselves in a responsible manner, so they do not bring disrepute to those they work for.