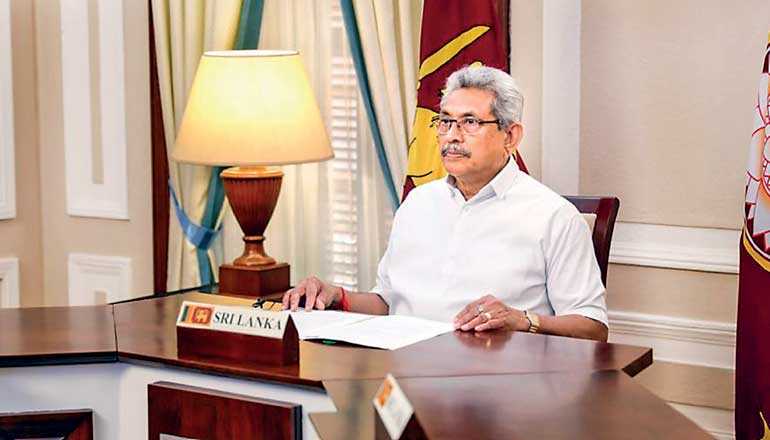 President Gotabaya Rajapaksa addressing the online Non-Aligned Movement (NAM) summit yesterday
Says developing countries facing 'unprecedented' economic crisis due to pandemic
Middle-income countries face diverse economic and social issues augmented by COVID-19
Praises local efforts and condoles thousands of lives lost globally
Notes SL still has myriad of challenges including creating new economic trends, supporting biz and protecting the poor
President Gotabaya Rajapaksa yesterday called for debt relief and fiscal stimulus for middle-income countries, including Sri Lanka, noting that the COVID-19 outbreak has created an unprecedented challenge for a large number of developing countries.

Addressing the online summit of the Non-Aligned Movement (NAM) held under the theme 'United Against COVID-19', President Rajapaksa noted that many countries will need support to recover from the virus. He also expressed sympathy for all the thousands of lives that have been lost to the pandemic around the world.

"As Sri Lanka notes with deep concern that developing countries are facing an unprecedented economic and debt crisis due to the pandemic, need for debt relief and financial stimulus for these countries must be duly recognised," he told the gathering.

"In this regard, Sri Lanka reiterates its call and joins global appeals for international financial institutions and donors to provide debt relief and greater financial assistance to vulnerable countries."

Rajapaksa noted it was important to emphasise that middle-income countries such as Sri Lanka also face critical and diverse economic and social challenges that have been augmented by the pandemic.

"Therefore, it is important to also focus on their needs at this particular juncture and accord the necessary financial support to avert negative economic consequences," he added.

The President also praised Sri Lanka's efforts to contain the virus and gave details on how the relatively low infection rate was accomplished. Given an excellent free healthcare system which includes a well-established preventive mechanism placed throughout the country, Sri Lanka was able to contain the spread of this deadly virus utilising the public health processes.

He also touched on the establishment of several task forces, the quarantine centres, the contact tracing done to identify potential patients and efforts to repatriate overseas Sri Lankans.

"In order to assist the health authorities and other services deployed to combat the spread of COVID-19, my Government declared a curfew from 18 March throughout the island and restricted movement of people."

However, with work coming to a standstill, Sri Lanka is to face a series of challenges, which have already been embarked on by the Government.

The President noted that these were financially supporting low income families, pensioners and differently-abled, day-income earners and farmers, managing the repatriation of Sri Lankans in a coordinated manner, exploring avenues of business to create new economic trends while supporting existing industries and moving forward to the use of the digital technology including to connect the farmer, consumer and supplier, and finally delivery of essential items and services, and distant education.

"It is essential to ensure that all countries have unrestricted access to vital medical resources required to respond to this virus and do not face impediments in their procurement."

"Sri Lanka remains deeply concerned by the unprecedented consequences arising from this pandemic to all our countries and peoples, including its catastrophic health impacts, accompanying humanitarian crisis, devastation of economies and social and psychological tensions, among others."

Rajapaksa also said Sri Lanka, therefore, is pleased to endorse the declaration of the Summit and recognises the timely initiative to establish a NAM Task Force to compile a database of basic humanitarian and medical needs of the member states to sensitise donors on urgent requirements.

"We commend the 'COVID-19 Global Humanitarian Response Plan' and the establishment of the United Nations COVID-19 Response and Recovery Fund. Sri Lanka also supports the endeavours of the WHO which has been playing a vital role in shaping the global response to the pandemic," he said.