Thirty-five State Ministers, three Deputy Ministers appointed
Calls for dedication to attain development goals
Insists State Minister portfolios based on national needs
Regrets not assigning female lawmaker as State Minister of Women and Child Affairs
Calls on all parliamentarians to work for development, regardless of portfolios
By Nuwan Senarathna

President Gotabaya Rajapaksa yesterday said ministerial portfolios were important responsibilities and should not be viewed as mere privileges, insisting each Minister must be committed to attain the goals outlined in his election manifesto.

Speaking at the swearing-in ceremony of State Ministers and Deputy Ministers, held at the Presidential Secretariat yesterday, President Rajapaksa was insistent that the people's mandate for a better future must be respected and implemented. Therefore, he called on all appointees to commit themselves to pushing forward development along the policies outlined in his manifesto. Thirty-five State Ministers and three Deputy Ministers were sworn in before President Gotabaya Rajapaksa and Prime Minister Mahinda Rajapaksa.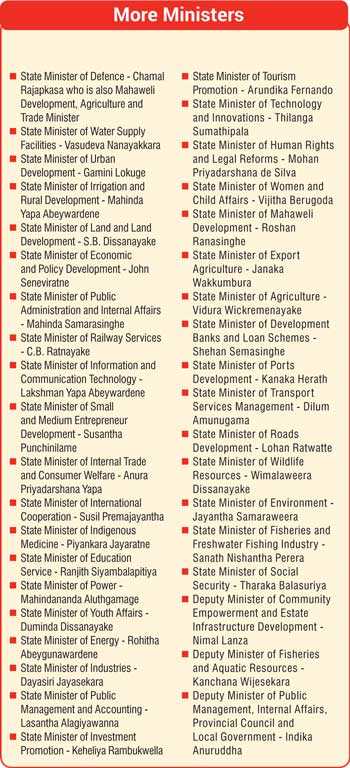 "Considering the limitations in the Constitution, we are not able to give positions to everyone who worked for our victory, and gained us votes at the election. In fact I would have preferred to reduce the number of State Ministers, just as I reduced the number of Cabinet Ministers. However, these positions were created considering the needs of the people, which we have identified in our manifesto and during the election campaign," the President said.

He emphasised all portfolios were equally important to develop the country, and address decades-long challenges. President Rajapaksa noted the positions were created based on years of observations done by him, during which he was able to identify the needs of the country.

"To some people observing these appointments, the titles of these positions may not appear obvious at first glance, but they have important duties and responsibilities under them. Each position was created based on the people's needs. Therefore every Minister has great responsibility to shoulder."

Referring to State Minister of Railway Services as an example, the President said the portfolio was created considering the people's needs to have an improved train service. He noted railway services was an important area that his administration will look to develop. The President noted steps would be taken to improve indigenous medicine as well, and pointed out that sector could be used to promote the tourism industry.

"If we take the State Ministry of Social Security, the name might create doubts in people's minds. But the position was created to eradicate poverty, which was one of our key promises during the election campaign."

President Rajapaksa added that he regretted being unable to assign the State Ministry of Women and Child Affairs to a female lawmaker. MP Vijitha Berugoda has been appointed to this position.

The President pointed out that technology and innovation was a key topic that was discussed during his election manifesto, and therefore he decided to appoint a separate State Minister for that portfolio. Moving on to the tourism industry, President Rajapaksa said he aims for Sri Lanka to earn $ 10 billion revenue from tourism annually.

The President requested Cabinet Ministers to give the State and Deputy Ministers a chance to work, and urged for them to be assigned responsibilities. A secretary will also be assigned for each State Minister to fast-track development projects.

"We need to motivate the State sector. We have great public officials. Therefore, I invite all Cabinet Ministers, State Ministers, Deputy Ministers, and parliamentarians to motivate them and strengthen the public sector, and thereby move forward towards a new era."

He pointed out that although some MPs did not receive positions, they also have a responsibility to carry out development. The President requested Cabinet Ministers and State Ministers to utilise lawmakers who did not receive positions properly, for the betterment of the country.