Polish Deputy Foreign Minister highlights major untapped potential in bilateral cooperation
NCCSL, KIG sign MoU to explore private sector trade, investment opportunities
By Charumini de Silva

Efforts to step up Sri Lanka-Poland ties received a boost this week with the arrival of a team of top officials from Warsaw and the private sector of the two countries forging new links.

Republic of Poland Deputy Foreign Minister Maciej Lang who arrived in Colombo on Monday said the Polish and Sri Lankan business community had huge untapped potential to further strengthen bilateral trade and investment ties. "One of the major objectives of my visit to Sri Lanka is to strengthen our economic relations.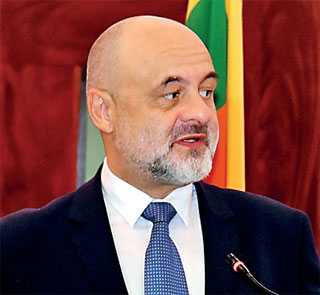 Poland Deputy Foreign Minister Maciej Lang — Pic by Ruwan Walpola
I am convinced that there is immense untapped potential between the two countries to explore," he told a business forum and B2B meeting held with the Poland business delegation hosted by the Sri Lanka Export Development Board (EDB) yesterday.

The National Chamber of Commerce of Sri Lanka (NCCSL) and the Polish Chamber of Commerce (KIG) also inked a Memorandum of Understanding (MoU) at the event to establish close B2B contacts, which is crucial to explore private sector trade and investment opportunities in both countries.

With the commencement of LOT Polish Airlines' new connectivity from Warsaw to Colombo, the Deputy Foreign Minister pointed out that establishment of close business to business (B2B) contacts was crucial to both countries as they look to expand.

"Bilateral political, economic and cultural cooperation between our countries has grown from strength to strength over the years. We are confident of further strengthening economic relations as the vision of both countries is to create a solid basis for new development," he added.

Bilateral trade between Sri Lanka and Poland has grown rapidly from around $ 19 million in 2015 to $ 190 million in 2018.

Poland is the economic powerhouse of Central and Eastern Europe, with GDP growth averaging at 4.2% per annum. It is the seventh largest economy in the EU with a total GDP of € 524 billion and houses a vibrant entrepreneurial landscape of Small and Medium-sized Enterprises (SMEs).

It was noted that the large domestic market in Poland was a potentially lucrative target for Sri Lankan exporters.

Stating that the Poland business delegation covered a wide range of industries, he asserted that it showed their high level of interest in cooperation with Sri Lanka in many different fields.

Development Strategies and International Trade Deputy Minister Nalin Bandara Jayamaha said the visit of the Polish delegation would take bilateral trade and investment to new heights.

Despite there being vast potential for Sri Lankan exports to Central and Eastern Europe, he pointed out that our share of exports was considerably small in the context of Asia's share in Central and Eastern Europe.

"Poland is the second largest market for Sri Lanka's exports in the Central Europe. Therefore, I believe this will be a great initiative to strengthen the bilateral trade relationship between the two countries. In line with our National Export Strategy (NES), Sri Lanka should adapt market diversification strategies by exploring opportunities in untapped markets like Central Europe," Jayamaha said.

The European region is the top export market for Sri Lanka and our exports to Europe represent 30% of total export revenue, while 94% Sri Lankan exports to Europe cover the main markets, which includes the United Kingdom, Germany, Italy, Belgium, Netherlands, France, Sweden, Spain, Poland and Ireland.

EDB Director General Jeevani Siriwardena emphasised on the importance of capitalising on the opportunity to develop trade and strengthen the bilateral relationship between Sri Lanka and Poland.