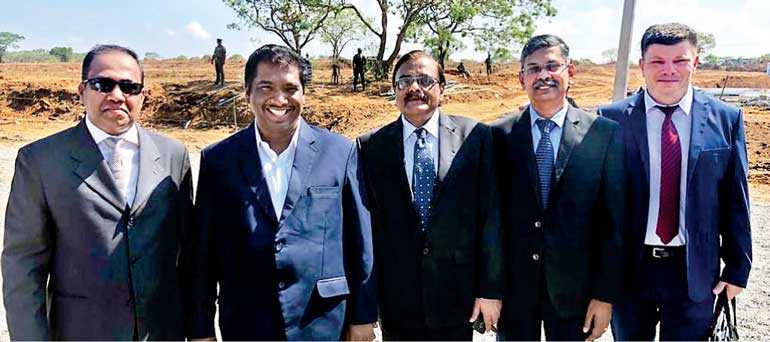 Main promoter of the Silver Park Petroleum Refinery project Mohammed Riyas (left) with investor Accord Group's Deputy Chairman and Silver Park Petroleum Refinery Director Sandeep Anand, President/Director Silver Park Petroleum Refinery S. Chandrasekaran, Indczech Engineering - India CEO R. Senthilkumar and Czech Republic's Chemoprojekt A.S. CEO/Managing Director Libor Čech at the launch of the project in Hambantota on 24 March
Original promoter of $ 3.9 b oil refinery project Mohammed Riyas says discussion with $ 7 b assets-rich Accord Group Chief Dr. S. Jagatrakshakan began way back in October 2015
Says if not for delay in release of land the multiple benefits accruing exports-oriented project would have been commissioned by now
Perseverance by promoters and Sri Lanka's enviable strategic location were key factors for the realisation of the biggest Foreign Direct Investment (FDI) worth $ 3.9 billion exports-oriented oil refinery in Hambantota, THE work on which kicked off recently.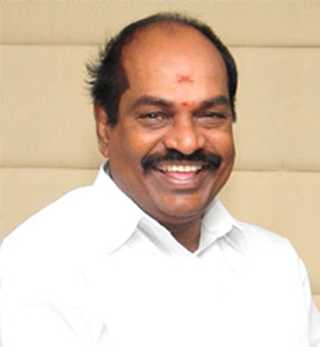 Accord Group Chairman Dr. S. Jagatrakshakan
The professional stock broker and investment advisor who promoted the idea first to India's $ 7 billion assets-rich conglomerate Accord Group way back in October 2015 when its Chairman Dr. S. Jagatrakshakan made a visit to Sri Lanka, said the country can be proud of this project once fully operational. Condor Equities Ltd. Sales and Business Development Director Mohammed Riyas had shared Sri Lanka's strategic location and its maritime sector opportunities when the Chennai-based Accord Chief was in Sri Lanka exploring prospects of investing in a star class hotel in Colombo.

"I had a long and fruitful discussion with the Accord Group Chairman during his visit to Sri Lanka and realised the strength, capacity and willingness of the Group to invest in a large scale project more than a city hotel venture," recalled Riyas who has structured many stock markets deals and foreign direct investments including the entry of the Saudi-based Heraymila in 2009.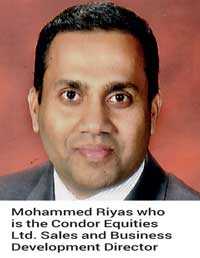 Riyas said following the end of the war in May 2009, he undertook a thorough research of possible new investment sectors especially given the strategic location of Sri Lanka. One sector identified was the petroleum and related products and services.

"Given Sri Lanka's advantageous geographical location and proximity to international shipping lanes, the potential for an oil refinery, bunkering and by-products and services similar in scale and business model to Singapore and Fujairah was promoted during the meeting with Accord Group Chief," Riyas added.

For ships, the current alternatives are Singapore and Fujairah but Hambantota is a more competitive and less time consuming option given Sri Lanka's location.

Following the discussion, the feasibility study for the oil refinery was prepared with the technical expertise of those engaged in similar activity in Chennai. Subsequently, experts and executives visited the identified location for oil refinery Hambantota followed by submission of application to the Board of Investment in July 2016, less than 10 months of original meeting between Riyas and Accord Group Chairman.

Given the size of the investment (larger than Chinese investment in to developing Port City and the for the new ownership and management structure of Hambantota Port) and multiple socioeconomic benefits, the Prime Minister Ranil Wickremesinghe-chaired Cabinet Committee on Economic Management in November 2016 approved the project in principle. As a further step, it was included in the Hambantota Integrated Development Plan which the Government announced on 8 January 2017, marking President Maithripala Sirisena's second year in office.

The Accord Group's Singapore-incorporated subsidiary Silver Park International's project envisages refining 200,000 barrels per day or 10 million metric tons per annum. It is a Euro 5 Greenfield environment-friendly refinery. Based on current global prices, the venture's export potential is $ 9 billion. Though export-oriented, given Sri Lanka's forex-spent imports of petroleum products, the venture will be open for procurement by CPC as and when needed.

The second phase involves establishment of a petrochemical industry facility and provision of bunkering services. The by-products of the oil refinery include LPG, bitumen and urea with the latter having big markets in India and Pakistan. The project also includes a 5MW wind power plant and a desalination plant (excess supply will be channelled to people in the area as a CSR gesture) and once completed the entire project will create 6,000 new jobs directly and indirectly.

The project, as expected, faced delays as it involved clearance of land required amounting to 585 acres outside the Hambantota Port, but within the proposed Mirijjawila Industrial Zone and an additional 80 acres within the port. Some of the land belonged to the Mahaweli Authority.

"If not for the delays in the release of land, by now the project would be commercially operational," notes Riyas who added that construction time was 36 months.

Commenting on the investor, Riyas said Accord Group's business interests include leather, stainless steel, education, healthcare, hospitality, IT, beverages, pharmaceuticals and energy. Its Chairman Dr. S. Jagatrakshakan is described as an educationist, industrialist and a philanthropist. He entered politics and was an MP and Minister in the last Congress-led Government in 2009-2014 and is currently campaigning in Tamil Nadu for a seat in the current General election.