Asks Govt. to understand issues faced by professionals instead of labelling them as saboteurs
Says there are other means to increase Govt. revenue other than sale of assets, taxes and tariffs
Hirunika Premchandra slams DG of Trade Unions Saman Ratnapriya claiming he works for President
Says SJB will stand with any person or group coming onto streets for a valid reason
---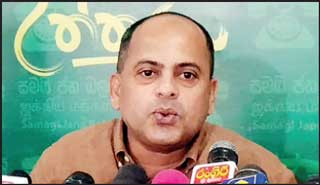 SJB Deputy National Organiser S. M. Marikkar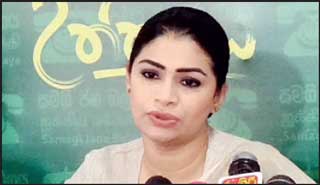 Hirunika Premachandra
Samagi Jana Balawegaya (SJB) Deputy National Organiser S. M. Marikkar says the Government must truly understand the real issues faced by the people and not turn their woes into a publicity war.

Commenting on the blow-by-blow updates provided by the President's Media Unit during the strike action on 15 March to imply the trade union action had failed, Marikkar said this was no publicity war. "Understand the issues faced by the professionals," he told the Government.

Marikkar said while admitting taxes must be imposed they must however be bearable to the people. He called on the Government to impose the tax rates introduced by the late Mangala Samaraweera in 2019 instead as even at the time all professionals were agreeable to it. Marikkar made these comments at a press conference held in Colombo yesterday.

Highlighting that taxes and tariff hikes are not the only means to increase Government revenue, Marikkar said selling assets, and levying taxes and tariffs does not signify good management of the economy. "We must find new modes of revenue and enter new markets," he said. He called on the President to provide answers to the professionals instead of labelling them as saboteurs of the country's economic revival.

Also addressing the press conference, Samagi Vanitha Balawegaya national organiser Hirunika Premachandra said that the trade unions came onto the streets to voice the issues faced by all citizens in the country. "This was a strike carried out for the country and not for personal gain," she said, adding that it was highly successful despite the state media's attempt to downplay it.

Slamming the Director General of Trade Unions, Saman Ratnapriya, Premachandra said his opinion that the strike was unsuccessful does not matter as it is evident he works for President Ranil Wickremesinghe while under the guise of being a trade union leader. She said the SJB is of the stance that they will stand with any person or group that has come onto the streets for any reasonable issue.