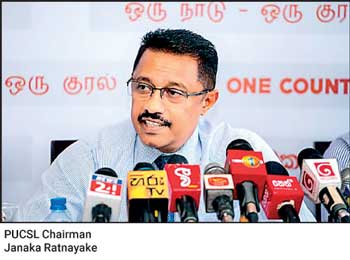 The Public Utilities Commission (PUCSL) is to take legal action against improper appointment of a Commissioner by the Finance Ministry Secretary.

PUCSL Chairman Janaka Ratnayake said yesterday that in appointing Kushan Jayasuriya to the position of member of the Commission, the Finance Secretary Mahinda Siriwardena has violated the Act by misleading the Minister in charge and the Legislative Council of the Parliament.

According to Section 5 (2) (g) of the Public Utilities Commission Act, Kushan Jayasuriya, who has a relationship with a company related to the electricity industry, was recently appointed and Jayasuriya has accepted the relevant appointment by making an affidavit.
Via in a letter dated 14 February Ratnayake informed the Finance Secretary that a person with a conflict of interest cannot be appointed as a member of the Commission. Thereafter the Finance Secretary had taken steps to recall the appointment letter.

However, PUCL Chief Ratnayake pointed out that the Ministry Secretary does not have the authority to recall an appointment letter in that way.

In view of this, "PUCSL has decided to take legal action to ensure that such illegal activities in violation of the Act will not happen in the future," Ratnayake said.