PUCSL Chairman Janaka Ratnayake says access to electricity is a basic human right
Calls on public not to refer to CEB as a "mafia"
---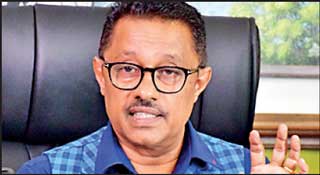 PUCSL Chairman Janaka Ratnayake
---
The Public Utilities Commission of Sri Lanka yesterday assured that the Ceylon Electricity Board (CEB) will have the financial stability to resume issuance of new electricity connections.
"The CEB did not have sufficient provisions, which caused difficulties in obtaining the necessary equipment to permit new connections. However, with the tariff hike announced, we hope the CEB will have sufficient funds to setup new connections," PUCSL Chairman Janaka Ratnayake told journalists on Tuesday.

On Tuesday, the electricity regulator approved the request to increase electricity tariffs by 75% on average for all categories from yesterday, after nine years.

"The CEB can no longer come up with the excuse of no money and therefore no meters, cables, fuel, or coal to provide electricity to the public," he said, adding access to electricity is a basic human right.

As per the PUCSL Chairman, they agreed to raise tariffs in a reasonable and transparent manner, which will help the CEB generate more than Rs. 500 billion by the end of this year.

Ratnayake also called on the public not to refer to the CEB as 'mafia', explaining that its employees are more emotion and instinct driven than by their own independent analysis.

"We also searched for the mafia but could not find them. I would say the CEB staff are following a 'herd culture'. Over the years, due to political appointments, there have been 22,000 to 24,000 employees, which added on to the financial burden. However, the majority of them are professional engineers," he said.

Ratnayake also recalled that electricity was one constant service people enjoyed even amidst the worst natural catastrophes like tsunami and the COVID pandemic.

"We should not take their service for granted," he stressed.