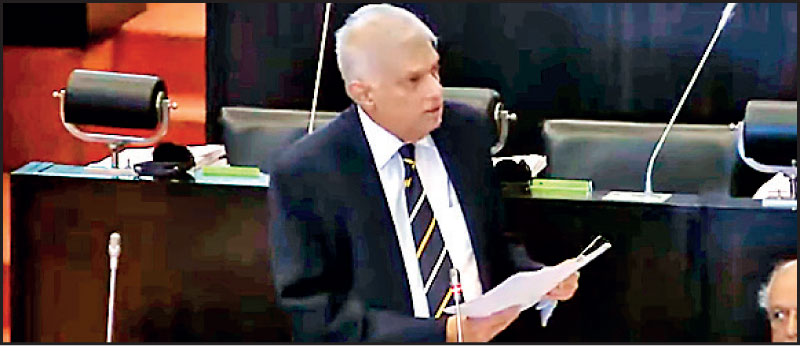 Prime Minister Ranil Wickremesinghe delivering his special statement in Parliament yesterday


---
(See full speech)

Come together as one country and join in nation's rebuilding process: Ranil
---
Predicts staff-level agreement by end-July
US Treasury Dept. team in SL next Monday
$ 4 b in fresh loans taken from India
Donor conference led by India, Japan and China in the pipeline
Interim budget to be presented to Parliament in August
Calls on all to come together as one country and join in nation's rebuilding process
---
By Chandani Kirinde
---
Prime Minister Ranil Wickremesinghe yesterday made a fresh crisis resolution status update in Parliament, warning that the economy has faced a complete collapse hence all must come together in the nation rebuilding process.

"We intend to enter into an official level agreement with the IMF by the end of July. Considering this planned framework and the official level agreement, it is expected that the Executive Board of the IMF will then arrive at its final decision. If we receive the IMF seal of approval, the world will once again trust us. It will help us to secure loan assistance as well as low-interest loans from other countries in the world," the Prime Minister said in a special statement to the House.

He also justified and defended his decision to give a fortnightly status update on the economic crisis and on-going efforts. "I have taken steps to inform you of the real situation faced by the country and the measures we are taking to address it. Some have ridiculed this.

They criticise me while asking: 'Did he accept the Premiership to merely tell us the hardships faced by the country?' However, many others are also grateful that we are telling them the whole truth and they have come forward to present various proposals that would perhaps help us overcome these issues," the Premier said.

Irrespective of which of these two groups one belongs to, Wickremesinghe called on all to come together as one country and join in the nation's rebuilding process to see it through these dark times.

"Let us all embark on this journey together. Only by doing this will we be able to ensure the country's recovery," said Wickremesinghe who also declared in his speech that the "economy has faced a complete collapse" and it was the most serious issue.

The Prime Minister said a team of representatives from the US Department of the Treasury will also arrive in Sri Lanka next Monday.

In the pipeline is also a credit aid conference which will be led by India, Japan and China, the country's main lending countries whilst in preparation some conflicts and disagreements involving these countries were being resolved.

He disclosed that Sri Lanka has taken loans amounting to $ 4 billion under the Indian credit line so far has requested more loan assistance but said even India will not be able to continuously support the country in this manner.

The Prime Minister also said the Government is currently holding discussions with the World Bank, Asian Development Bank, the US, other friendly nations and heads of state to secure interim short-term loans till we receive IMF support.

"We will be able to lay the foundation to ensure economic stability following the successful completion of these tasks. But this by no means will be the end. In fact, it will be the beginning of our journey," he added.

The Prime Minister also said that an interim budget will be presented to Parliament in August 2022 for the remainder of the period while the budget for 2023 will be presented in November.

"In addition to this, we will also present several new legislations in parliament that are necessary to strengthen our economy. We have already commenced discussions on these with all parties represented in Parliament," said Wickremesinghe, who also detailed efforts to minimise shortages and fast track political reforms.

"Today there is a collective protest by citizens against the whole Parliament. At such a time a host of economic and political reforms affecting the country's future have been proposed in Parliament. If one has a true love for one's country, what must be done now is to extend one's support to introduce these reforms and to point out any shortcomings," the Prime Minister said.

In that context, he called on everyone to step away from traditional politics and to think afresh for the sake of the country. "I would also like to emphasise that it is the aspiration of the people that these reforms are expedited and implemented. If we can set aside our differences for a short while and only think of our country at this juncture, I believe we will be able to safeguard our motherland from this impending disaster.

"The flock of quails were only able to escape the hunter's net by flying away together along with the trap set for them. If the quails merely resorted to blaming the hunter, they would have all been trapped and met a tragic fate. Therefore, let us escape this economic trap. Let us work together to overcome these challenges," Premier Wickremesinghe added.