The advertising industry brings excitement, life and purpose to brands, but it also serves as a barometer that measures shifts in business sentiments and is one of the first industries to feel the tremors of an implosion particularly one of economic proportions caused by the pandemic. The discreet entry of a virus in 2020 gave no such advance signs of its arrival as it stomped on economies all over the world at a pace which even the industry had no time to sense. As the world closed down for business in early March of 2020 it was clear from the very outset that businesses would have to quickly adapt to palliate the adverse effects of a massive global shakeup.

Year 2020 was a challenging year for all and The MullenLowe Group's (MLG- Sri Lanka) challenges were no exception – From an annual average growth of 23% over the last four years the company's growth slowed from its previous years but it took the fight back to the virus in a pandemic-laden year, posting an encouraging 9% growth in revenue and ending a happier and stronger motivated company. Leading up to 2020, MLG has regularly been in the spotlight and more recently for its 36th position in the world and a top 10 agency in Asia Pacific for advertising effectiveness (EFFIE Index 2020), cutting-edge work, awards and new business gains. This time the company is in the limelight for extracting success from a torrid 2020.

To give context to the rise of MLG the company once known as LOWE LDB which possessed top credentials as a creative hot shop with a modest size, retained its strong creative DNA post-acquisition and added a spirit of entrepreneurship which propelled the company to new heights beyond just financial performance. The company is home to the country's top tier brands and sought-after talent, possesses a sagacious infusion of technology in communications, an incubator for ideas that resonate with communities, and is known for its staff happiness and career development. All this combined, The MullenLowe Group Sri Lanka has strongly emerged as an influential partner for brands and budding advertising professionals. The company works on almost 80% of the 20 topmost advertised categories bringing unparalleled cross category knowledge to the table. With 2021 showing no respite from the fallout of the pandemic, MLG is resolutely optimistic of the year. Daily FT spoke to MullenLowe Group – Sri Lanka Chief Executive Officer Thayalan Bartlett to learn more of the company, the industry and key learnings from the pandemic. Following are excerpts of the interview:
---
Lessons from lockdown and other contentious issues facing the advertising industry
---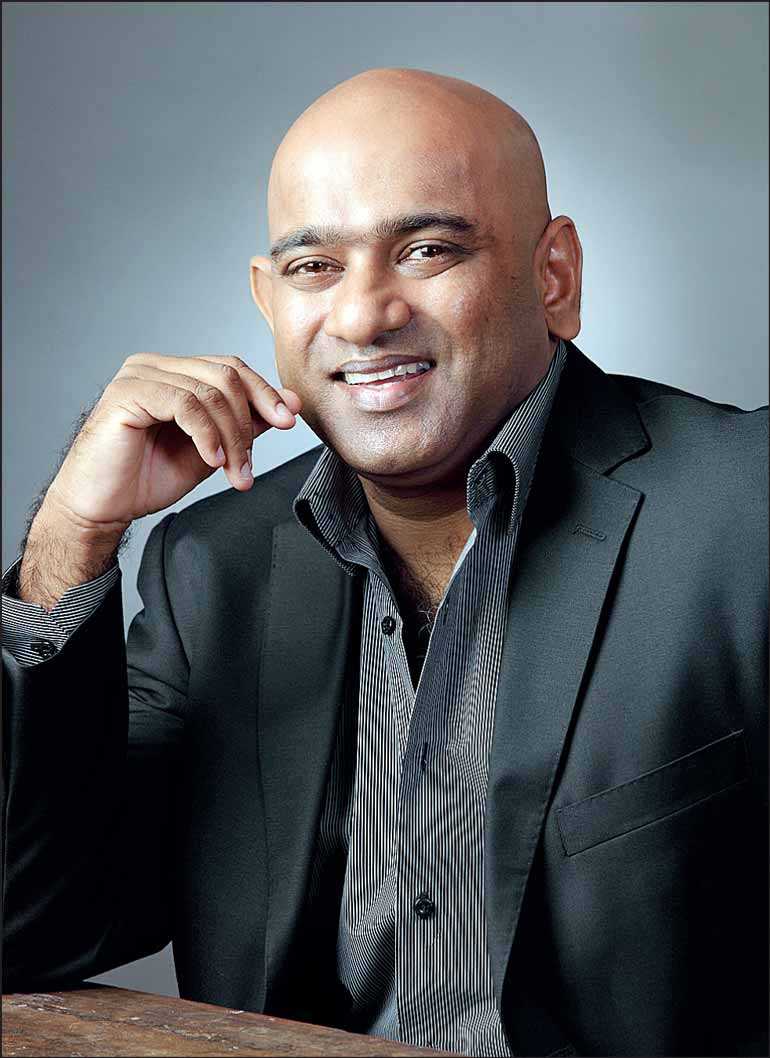 MullenLowe Group – Sri Lanka CEO Thayalan Bartlett
---
Q: What were your first thoughts and actions when the pandemic set-in?
There was reason to be afraid and there was reason to be cautious, but there was no reason for panic. Our business is misunderstood as promoting excessive consumerism and its relevance is sometime challenged but as an industry, we are primarily problem solvers, and our skills were acutely required more in 2020 than in other recent years.

The pandemic indeed was an unknown problem, complex and merciless. The virus was eking a living out of business and we had to improvise our skills to fight back. With adversity comes opportunity but one must know where to look for it. We were fortunate to have our eyes in the right places of opportunity, and we came out of 2020 better than a strong 2019.
Q: Can you share some key decisions that brought stability to business in 2020?
1. Companies with weaker nerves immediately began looking inwards, slashing jobs, reducing costs and enforcing salary cuts across the board. Wiser companies with calmer nerves had a firm eye on their financials and scanned the horizon for residual opportunity. The ones who started with an outward vision came out stronger while the ones who started from inward are recovering much slower. We were clearly the former.
2. At lockdown our BCP (Business Contingency Plan) kicked-in for the first time in my three decades of working life with 70% of our office remotely operational in less than 24 hours and the balance 30% in 48 hours; and we were back in business responding to clients, conducting shoots and pitching for new business in a pandemic restricted environment. Although nothing was as perfect as we would have liked it to be, we were always a fortnight ahead of emerging business challenges. We readied ourselves like never before.
3. In the first three weeks of lockdown, we set-up a virtual war room where we shared ideas with a cross section of people trying to figure out how to respond to business and the pandemic, identifying opportunities in a dwindling business climate and finding ways to do the best we can with restrained resources. The results were remarkable with some of our junior staff contributing immensely to pragmatic solutions. The war room also served as a way of being connected, with different levels of staff encouraging each other through the pandemic. There is much more to positive engagement virtually than being simply wired through technology.
Q: What were the results of such decisions?
Although we worked remotely, I believe we worked much closer as a unit to stave off the fear of failure. Organic growth was difficult to achieve and with a potential crisis looming ahead of us we pitched for every business opportunity that came our way, something we usually don't do. The results of such determination saw 90% of our 9% growth coming from new business alone.

Despite producing 140 commercials in 2019 we managed to produce 91 commercials in 2020, of which 70% were done during lockdown, we paid staff in full for 2020, we aggressively hired and confirmed more people during the pandemic than ever before, we paid staff their full annual bonuses and made an abnormal 2020, normal like any other good year.
Q: Mental health was a big cause of concern during the pandemic. What was your experience?
The pandemic had a sapping effect on people's mental health which was identified by us during the very early stages of the lockdown. The fear of the pandemic and new style of working was an emotional strain on staff so we established a system for online access to professional counsellors if and when needed. We also set-up a buddy system for the most vulnerable staff to be closely monitored by colleagues, keeping them positively engaged in conversation and work.
Q: What makes MullenLowe different from the rest?
On the face of it we are like any other agency. But deep down our attitude to everything changes our commonality with other agencies. Our attitude to talent, approach to business and selectiveness have had a combined effect on our overall performance.

Talent: Where our talent differ from other companies is in spirit. As I say this, we need to immediately discount the social aspect of spirit because every company has its own which is unique to them, but where we vastly differ is in our spirit of entrepreneurship, determination and how we change the rules of engagement in a meaningful way. Simply put, it is attitude to work. Everybody hires 'aptitude' but very few hire 'attitude'. We are the very few and we believe we end up with smarter, sharper and happier staff.

Business: Most agencies are very capable in handling accounts. Where we differ, more from design than default, is that we manage our business first, through which we handle accounts whereas others handle accounts from which they manage their business. We avoid the tail wagging the dog situation. This fundamental shift in approach amongst others gives us dignity which the industry has lost. The compromise of ethical practices and not putting a value to what we create has devalued our purpose and offering as an industry. There is servile over servicing, throwaway underpricing and in some instances irresponsible overpricing and reckless pitching just to stay in the game, all of which have been killing the industry slowly. The latter approach gets you wins in the short term but weakens you in the long-term exerting pressure on business and staff morale. To us it's not about staying in the game or just winning it. Like any company we win and lose business but unlike any company we focus on winning the series and not just the game.

Selective: What we mean by choosing the games we play – we are exceptionally selective who works for us and who works with us as clients. There are at least two to three business pitches called for every month but on an average, we pitch only for three to four accounts per year. By limiting our pitching efforts our teams are able to concentrate on the work in hand and do not get depleted or wasted. We have been fortunate that most of our new business acquisitions have been through referrals. Is this possible? Of course, it is. You just need to earn some respect for the work you do, and business comes.
Q: What can staff expect from working at MullenLowe?
I must admit, it is not easy working in a place like MullenLowe. We are perhaps the most challenging place for staff to work. The demands on the individual at every level are extremely high and intense. We prepare new staff to face a tough 12 months of settling down. We also know that staff who work with us for one year usually stay with us for very much longer.

What staff can expect in return is not a job but a career, not a mere designation but responsibility with accountability, not a salary but an income based on output, not a routine but a fulfilling work experience. We believe that we have some of the country's best and brightest people working for us and therefore they need to feel that they are the best rewarded team. We do everything within our means to make them feel they are special and well taken care of.
Q: Excessive business pitches seem to be quite common. What is your take on this?
One needs to first ask why clients call for pitches and why agencies respond to such calls. The ostensible intention of a pitch is to pick the best idea, but the truth is far from the intention. In my entire career in advertising with the exception of one pitch, I can't remember any client ever using the work we pitched with. Advertising is largely a business built on relationships with trust and respect being the key elements of it.

When a client calls for a pitch the primary criteria should be to evaluate the quality and sustainability of forging a long term "partnership". A partnership takes into account each other's strengths and weaknesses in order to produce the best result. It's pure fallacy for clients to think that the agency that presents the best idea at a pitch will constantly give them the best ideas throughout their tenure.

When clients begin to understand what they are looking for from a pitch and agencies begin to realise not to sell themselves out, good business sense will prevail, and everybody can immensely benefit from it. Our relationship with our main client is over 100 years old and one-third of our client portfolio has been with the company for over 10 years.
Q: We see a lot of award shows locally and internationally, do they help to improve skills and business?
Creative award shows were intended to recognise great work, motivate talent and upgrade skills and I am all for it. However, the proliferation of award shows in recent times is anything but what they intended it to be. You don't participate in it anymore, you play it. It's big business for the organisers who have fine-tuned the art of targeting the insecurities of creative professionals.

'If you are not an award winner you are not creative' is a myth. The day you decide to 'play it,' you lose sight of your responsibility towards clients and their real challenges. It drains resources and money and there is no proof that awards can increase your business. As an industry we suffer from collective delusion that awards are critical for our acceptance and identity. As an agency we are very sceptical about hiring talent who work for creative awards, as awards are breeding a new generation of talent who fall short of skills to deal with complex day-to-day challenges facing brands.
Q: How important is it for CEOs to be involved in advertising decision making?
Agencies and clients have a shared responsibility to make great brands. Time and again we have experienced when advertising conversations are led by C-suites the quality of the work is as rich as the quality of discussion leading to such work. Companies allocate hundreds of millions of rupees annually for advertising, and C-suite level involvement is as important as making a decision to invest 300 million rupees on a new plant. If Steve Jobs who was the single cause and effect of one of the world's largest companies can lead discussions and be highly involved in advertising decision making, then other CEOs can.

Samsung and Huawei arguably make better products but the entire Apple experience, which we all pay a lot of money for, is not made in a factory in China but in a boardroom with an ad agency in Cupertino. Apple products are made in China for cost efficiency, but the brand's value is created in the US. You decide where most of the profit comes from, is it from the side of cheaper cost or from the side of greater value addition?

Advertising is the public face of all the complex internal happenings of companies and the disregard of that responsibility is a disregard for brand value. Clients must also approach the table seeking to add value through great ideas, be cost conscious but not to be brutal about costs. There is nothing called 'cheap great ideas'.
Q: Is advertising an unwanted expense or a necessary investment?
Advertising made unthoughtfully is an expense, but well-crafted work immersed in strategy will always be a sound investment. The ones who truly begin to understand the times we operate in, where brand proliferation is at its peak and the margin for product superiority is fast diminishing, where the gap in trade reach is narrowing, brand appeal is going to be something custodians will need to work hard to find purpose and relevance.

Emerging middleclass consumers are increasingly ready to pay a premium for gratifying value and overall brand experience will continue to be something marketers will need to deeply think about. Advertising has always played a vital part in the health of a brand and will be required more so in the future.
Q: Is digital advertising truly the wonder everybody has been talking about?
It's a big question which needs a long answer, but I will keep it brief. It's time to call out digital for what it is and not what it is made out to be. Silicon Valley is known to spin theories that keep their investors happy and the myth that digital will displace mainstream hasn't taken place since such prophecy was first flogged. What Digital media is – it is a damn good media vehicle which is referred to as a 'platform'. Then we refer to its digital assets as 'content' as if we were not making content for media over 100 years ago. What it is not – it is not an alternative to strategic ideation and problem solving, which is advertising.

Digital is one of the channels at the disposal of brand custodians that uses data to reach customers cost effectively by engaging them differently from what mainstream can do. What makes it better than other available channels are not 'cheaper advertising costs' but its ability to drive faster conversion that is measurable. Unfortunately, this fabulous platform is abused and touted as an alternative to mainstream media in Sri Lanka.

As an industry we have been stuck in the learning curve of digital for far too long compared with other markets. The day Sri Lankan marketers and advertisers begin to respect the platform for what it is, they will yield better results from it and digital will come of age in Sri Lanka. In my humble opinion, there is a lot of money being wasted on digital advertising in Sri Lanka as marketers and advertisers have still not understood its true potential.
Q: What do you see as the biggest challenge for 2021?
Through resolve we believe we have retained 65%-70% of Sri Lanka's best advertising talent with us. We want to better this and we will go after people who believe in the same ideals as us. However, the bigger challenge is, even if we succeed in hiring the balance 30% of good talent, it is unlikely to support our rate of growth. Making that decision of quantity over quality will always be difficult but when we get to that point, I am sure we will wisely succumb to the latter.
Q: What is your solution to overcome the dearth of good talent?
Training people is undoubtedly the biggest investment any company can make, particularly companies that consider themselves leaders in the industry. We had put in place an extensive calendar committing a significant sum of money for 2020, which was pulled down because of COVID. We believe this year is not for training but if COVID is brought under control we will roll-out an aggressive training calendar in 2022 for all levels of staff.
Q: What keeps you awake at night?
If I am to put my finger on one, it will be the fear of disengaging from our purpose – we are a business made of people and as long as all our staff remain connected to one common purpose of the organisation and each person fully identifies with it to the extent, they know that it is their work that helps us overcome the odds in business, we will then be in business. The day we lose sight of our entrepreneurial spirit, the energy it creates, the enthusiasm for problem solving and our sense of responsibility and accountability for results, we will lose the dignity of business.

Every programme in our office, whether it is social or professional, is designed towards enriching our purpose as an organisation. We invest heavily in it both in time and money to ensure that people are all engaged with it meaningfully and that is why at MullenLowe business is done with dignity to enjoy what we do, not desperation to survive.