---
SriLankan Airlines is presenting the 'Black Friday' exclusive one-day sale today, 29 November, with amazing discounts on air tickets booked through its website www.srilankan.com to 37 exciting cities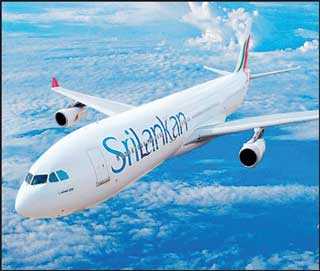 throughout its route network.

Customers can choose to travel at any time between 1 February 2020 and 31 December 2020; 37 destinations all over the world are up for grabs for anyone who wishes to make use of this offer. More details on this offer can be found on www.srilankan.com/en_uk/special-offers/promotion/black-friday-srilankan-airlines

The Black Friday sale provides travellers with the option of making journeys to a wide range of destinations to which SriLankan Airlines flies. In the Far East, SriLankan offers a choice of the Chinese cities of Beijing, Shanghai and Canton; Tokyo, Bangkok, Kuala Lumpur, Singapore and Jakarta while in the Middle East, SriLankan flies to Bahrain, Kuwait, Doha, Muscat, Dubai, Abu Dhabi, and the Saudi cities of Dammam, Jeddah and Riyadh. Farther afield, SriLankan serves London, Melbourne and the Seychelles as well.

Offers..

This offer is also available for a vast number of cities in Asia – its hub Colombo; Male and Gan Island in the Maldives; the Pakistani cities of Karachi and Lahore; Dhaka in Bangladesh; and Chennai, Trivandrum, Trichy, Mumbai, Bangalore, New Delhi, Kochi, Madurai, Kolkata, Hyderabad, and Coimbatore in India where SriLankan is the largest foreign carrier.

Srilankan.com the airline's official website offers a number of benefits to those who book their tickets online such as the ability to cancel their tickets within 24 hours of their booking without any penalties. With 24-hour assistance and the ability to book flights and make changes to bookings anytime, anywhere with any device, Srilankan.com offers a variety of flexibilities including flexible cancellation and date change plans to its customers who book their tickets online.

SriLankan has been consistently winning prestigious accolades, including 'Leading International Airline' in South Asia and 'Leading Airline Passenger Class – Business' award, both for the second consecutive year at the South Asian Travel Awards 2019 (SATA); 'Best Marketing Innovation' award from APEX; two awards at the World Travel Awards 2018 Asia and Australasia; 'Best Full Service Airline in Central & South Asia' at the Future Travel Experience Asia Awards; and 'Innovation in Commercial Airline Cabins' at the In-flight Asia Pacific Awards.

A member of the prestigious oneworld global airline partnership, SriLankan Airlines also connects travellers to over 1,000 cities in 160 countries through its oneworld partner airlines.