Denies reports of stepping down as purely speculative
Speaker Karu Jayasuriya yesterday denied any plans to resign from his post and dismissed media reports related to his stepping down as purely speculative.

Releasing a short statement Jayasuriya noted that he had at no point stated he would resign if a new Prime Minister was sworn in as was done on 26 October and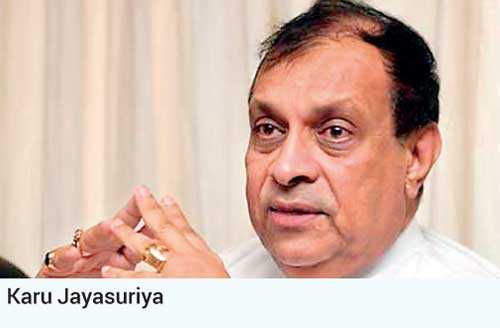 emphasised that any media reports saying he would do so were merely speculative.

He also added that if a Prime Minister was appointed from a party without parliamentary majority, he stands ready to do all that could be done through the parliamentary process to protect and promote democracy.

However, since the media reports were without any basis the Speaker said he does not see such a situation arising.

Speculation that United National Party (UNP) Deputy Leader Sajith Premadasa could be sworn in as Prime Minister by President Maithripala Sirisena was widely speculated on social media and mainstream media. However, Premadasa supporters, most of whom were with him at the rally, denied there was any such effort.