CEA says it will commence countrywide raids


By Shanika Sriyananda


The Central Environmental Authority (CEA) is to begin raids from today to nab those who defy the new guidelines on all polythene products, under a three-month plan to phase out harmful polythene shopping bags, rigifoam boxes and lunch sheets in the country.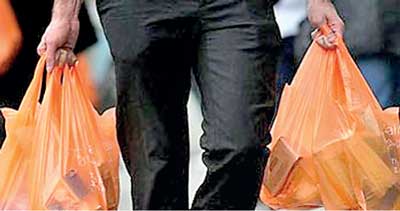 The guidelines were announced in the gazette for manufacturing shopping bags, rigifoam boxes and lunch sheets following a proposal by President Maithripala Sirisena, who is the Minister of Environment. Under these new guidelines, the Government had announced a ban on all polythene products less than 20 microns from September this year."From today, the CEA officials will carry out countrywide raids," CEA Chairman Prof. Lal Dharmasiri said, adding that the CEA had commenced raiding industries which manufacture polythene, from 1 December last year to check whether polythene manufacturers were following the guidelines.


He told the Daily FT that the CEA has planned to carry out raids in three stages and polythene manufacturing industries, including those which produce polythene, lunch sheets and shopping bags, would be raided first.



According to the CEA sources, there are over 500 people who are doing this as a domestic business with no registration.


"The wholesale outlets and the places where they store polythene will be raided secondly. We have information that a lot of people who are in the industry have no registration and we will take legal action against them," he said.

Under new regulations which ban the use, production, import and sale of polythene lunch sheets, shopping bags and rigifoam items, the Government has introduced short-term, medium-term and long-term measures to bring down polythene usage mainly to prevent environmental pollution due to polythene.


Prof. Dharamasiri said that retailers and eateries, including restaurants, which use non-biodegradable lunch sheets, would be nabbed thirdly.


According to new regulations, those who do not adhere to the stipulated regulations in manufacturing polythene-related products will be fined Rs. 10,000 or face a two-year imprisonment.


He said that the Government had given a grace period for people to adjust to the new regulations and from today the CEA would strictly adhere to the law to phase out harmful polythene usage in the country.