Says those handing in nominations have to fulfil 1981 Presidential Election Act provisions
EC satisfied with affidavits given by candidates stating they fulfil legal requirements to run for elected office
Says 34 others who handed in nominations could have raised objection on nomination day
Insists redress must be sought in courts, which are above the EC


By Chandani Kirinde

Election Commission (EC) Chairman Mahinda Deshapriya said yesterday that the EC has no interest in verifying the citizenship status of candidates contesting the Presidential Election, as it only accepts nomination papers of those who fulfil the legal requirements to contest the poll.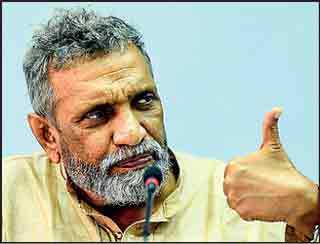 Election Commission Chairman Mahinda Deshapriya gestures as he speaks during a press conference in Colombo on 13 November 2019 - AFP


"Our interest is in ensuring that the person handing over the nominations fulfils the provisions of the Presidential Elections Act of 1981, which lays down the grounds for the rejection of the nomination papers.

These include non-payment of the deposit, incomplete or unduly attested nomination forms, if the person does not belong to a political party, nor is a Member of Parliament (MP). These are the conditions a candidate has to fulfil when handing over his or her nomination forms," Deshapriya said.

The EC Chairman made these remarks at a press briefing when journalists questioned him over the Commission's role in ensuring that dual citizens, who are constitutionally barred for running for elected office, do not contest the poll.

The EC has been dragged into the controversy over the citizenship status of SLPP's presidential candidate Gotabaya Rajapaksa, with his detractors claiming he has not duly renounced his US citizenship. Rajapaksa's lawyers have denied the claims, saying that he is now a Sri Lankan citizen and there is no bar to him contesting the election.

Deshapriya said that Rajapaksa and his lawyers met with the Commission in August to discuss the nomination process, election laws etc., and when the question of the disqualification of dual citizens by the Constitution was mentioned, they showed the Chairman and the two other Commissioners, namely N.J. Abeysekara PC and Prof. S. Ratnajeevan H. Hoole, a document and said it was Rajapaksa's US citizenship renunciation certificate.

"They gave a document. I took a look at it and passed it onto Commissioner Abeysekera, who also glanced through, and then Professor Hoole took it and looked at both sides of the document and gave it back. But no one gave any certificate saying it is authentic or not. We have not given any endorsement to any certificate," Deshapriya said.

"Our (the Commission's) opinion is we are not interested, and we don't have to check, because being a dual citizen is not a ground for rejecting a nomination paper under the Presidential Election Act," he said.

Deshapriya said it is like asking the candidates for their marriage certificate. "We have no power to reject a person's nomination because he or she is not married. It's the same with this issue. It must come from the Court which has the power to act in such instances. The Court is above the EC," he said.

Deshapriya said it is regrettable that the EC has been drawn into this controversy, which was aggravated over the past two days with a telephone recording between Deshapriya and the lawyer for Rajapaksa being leaked online.

"Every person who handed over the nominations gives us an affidavit, saying they have fulfilled the legal requirements to contest the election. We are satisfied with that. We are not interested to check if he or she is a foreign citizen," he said.

The EC Chairman said that 34 other candidates handed over nominations on the same day, and if there were any issues such as one regarding a candidate's citizenship, they could have raised objections on that day.