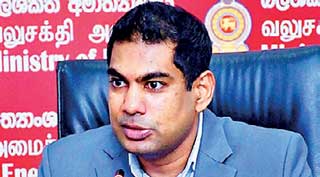 Power and Energy Minister Kanchana Wijesekera
---
Power and Energy Minister Kanchana Wijesekera yesterday affirmed that a decision has not been reached to remove the QR code system from next month.
"The QR system will continue till fuel requirements can be fulfilled," he tweeted yesterday.
In August, the National Fuel Pass QR Code system was officially launched following the fuel shortages due to the dearth of foreign reserves in the country to purchase fuel.
As per the QR Code system, individuals were able obtain the entire fuel quote available for the week or obtain the quota in stages during the course of the week.
Currently, all filling stations countrywide dispense fuel only as per the QR system.