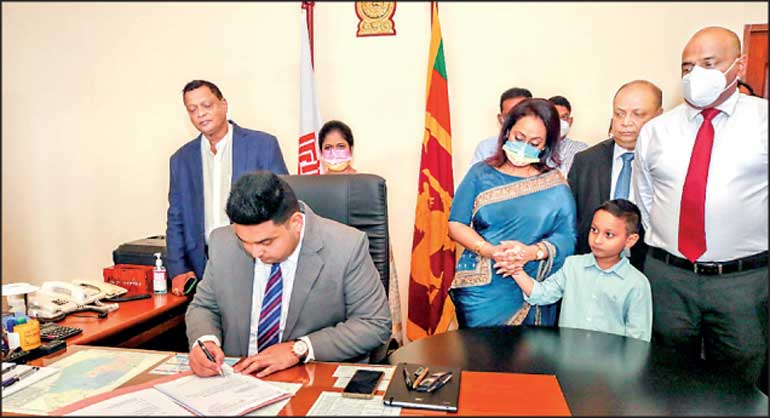 Nimesh Herath assumed duties as the Chairman of the Urban Development Authority (UDA) on Thursday.

UDA comes under the purview of the Ministry of Urban Development and Housing and Herath has been granted this appointment by the subject Minister Prasanna Ranathunga.

Herath holds a BSc. Honours Degree in Information Technology from the Sri Lanka Institute of Information Technology (SLIIT) and a postgraduate degree in Marketing and Management from the Postgraduate Institute of Marketing (PIM) affiliated to the University of Sri Jayewardenepura. Herath is a product of Ananda College, Colombo.
He counts over 15 years of professional experience with leading private sector institutions expertise in State sector project management, hospitality management, marketing, business development, sales and marketing management, human resource management and digital marketing. He has also served as a member of the Advisory Board to the Sri Lanka Tourism Development Authority.

Herath is a strategic, analytical and results-oriented individual who is determined in blending his perspicacity with the expertise and skills of the UDA staff to ensure sustainable urban development in Sri Lanka.

During his address at the time of assuming duties at the UDA, Herath emphasised that the UDA has a significant role to play in recovering the country from the current economic crisis. He emphasised that the UDA should be self-financing and should not depend on treasury funds.

Herath also highlighted the importance of State organisations to blend with modern technology and requested UDA staff to provide the best services to all its clients bearing in mind qualities such as equity and humanity.

The UDA is committed to achieving planned, sustained and adored urbanisation in Sri Lanka with the mission to promote integrated planning and implementation for the economic, social, environmental and physical development of the declared urban development areas.