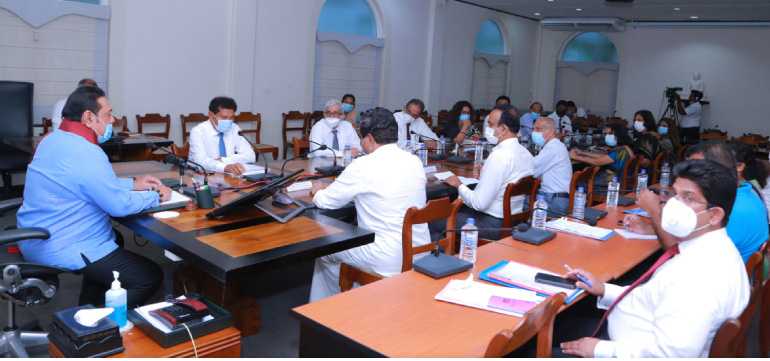 Says closure of several finance companies has dented public trust
Regulator, regulations and Govt. not trusted by people as a result
Insists public confidence must be shored up with better oversight and management
Prime Minister Mahinda Rajapaksa this week called for new laws to prevent large-scale financial mismanagement and fraud that resulted in several Non-Bank Financial Institutions (NBFIs) in Sri Lanka going bankrupt or having their licenses cancelled by the Central Bank.

Rajapaksa called for more financial accountability of finance companies during a meeting with Central Bank officials on Wednesday to address concerns of The Finance Company (TFC), which had its license cancelled last month.

During the discussion Rajapaksa had pointed out that repeated instances of closure of finance companies and Court cases lodged against them has resulted in the public losing trust in the Government, the regulator and regulatory systems that govern these institutions and as such measures should be taken to restore their faith.

"When people invest in a finance company it is because they believe the Central Bank will help to protect their investments. However, over the last few years many companies have had to close despite oversight of the Central Bank. The Finance Company was unable to address its issues even though there was a Central Bank-appointed Board of Directors and administration was overseen by it for many years.

This situation needs to be addressed, even if it means introducing new laws and measures," Rajapaksa was quoted by the Prime Minister's Media as saying at the meeting.

The Prime Minister had also emphasised that the Central Bank should take responsibility for the troubled finance companies, which were given licenses by the Monetary Board.

The statement released by Rajapaksa's media division said the meeting, which included Treasury Secretary S.R. Atygalle, Central Bank Governor Prof. W.D Lakshman and Deputy Governor H.A. Karunaratne, as well as Cabinet Spokesmen Bandula Gunawardena and Ramesh Pathirana, was convened to address the grievances of TFC depositors, who have been protesting the Central Bank's decision to cancel its license.

The Central Bank has insisted that license cancelation was necessary as TFC had not been able to find a credible investor even though several rounds of proposals had been called, the last being in January of this year.

Issuing a statement in May, the Central Bank said it would draw on the Sri Lanka Deposit Insurance and Liquidity Support Scheme to pay compensation to the insured depositors under the applicable laws and regulations.

"The insurance scheme will facilitate to settle 93% of the company's total depositors in full, 135,100 depositors out of 145,172 total depositors, while each of the remaining 7% depositors – 10,072 depositors – will also receive Rs. 600,000 as a part of their deposit amount and may be able to recover the remaining balance in the process of liquidation subject to the priority of claims," the statement said.

The Finance Company PLC (TFC) is a finance company which carried out its finance business activities under the Finance Business Act No. 42 of 2011 (FBA) and was severely impacted by the failure of a number of financial institutions within the Ceylinco Group in 2008. Since then, the financial status of the company deteriorated gradually, leading to a severe liquidity crisis, the Central Bank said.