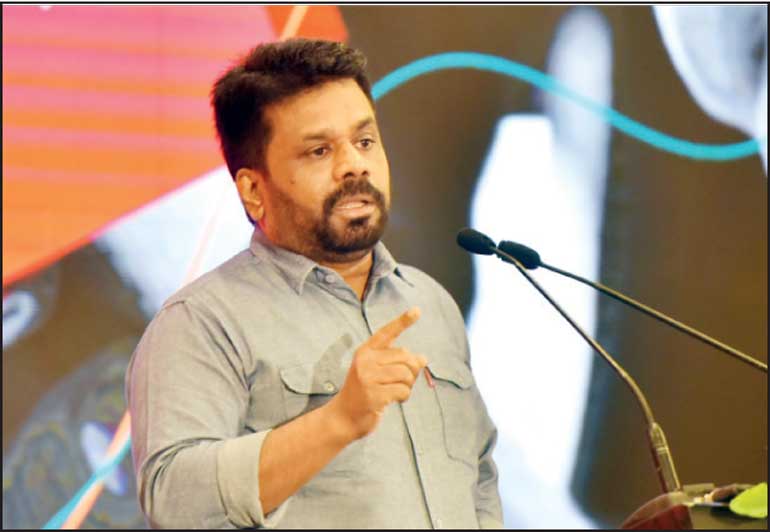 National People's Power (NPP) leader Anura Kumara Dissanayake - Pic by Ruwan Walpola
---
Anura Kumara Dissanayake blames current political culture for the country's economic woes
Moots abolishment of Executive Presidency claiming no Sri Lankan leader has developed the thinking to wield its powers
Says strong foundation is needed to develop the country and assures NPP will create it
---
By Maneshka Borham
---
National People Power (NPP) leader Anura Kumara Dissanayake says a strong foundation with a new constitution at its core is needed to rebuild and revive Sri Lanka.

While admitting that many economic factors and decisions led to the current economic crisis, Dissanayake blamed the current political culture in the country for being a key driver that led to the country's collapse.

"We often discuss the crisis in terms of many economic factors. However, it is also a result of our political culture. From development projects to tax breaks or hikes, obtaining loans and even forging diplomatic connections are based on the country's political culture," he noted. The NPP leader made these remarks while addressing the National Economic Forum organised by the party in Colombo yesterday.
"We need a strong foundation to rebuild the country. I assure you the NPP will create this foundation by changing the country's political culture," he said. Dissanayake said no effort to build the country will succeed unless this strong foundation is set up.

Noting that the Executive Presidency in its current use in Sri Lanka is unsuitable for the country, Dissanayake said it must be abolished through the introduction of a new constitution. "It is unsuited for a country like Sri Lanka as it is often misused by our leaders. They have not developed the ability or thinking to handle such a powerful seat," he said, adding that the country has witnessed many examples of this in the recent past.

Accordingly, Dissanayake said the constitution proposed by the NPP will abolish the Presidency, limit Cabinet Ministers, stop crossovers and protect the rights of all communities in the country. "This is the foundation we need to rebuild the country," he said.

The NPP leader highlighted the need to clean the corrupt system of Government and to protect the rule of law. He also pointed out the need to improve the efficiency of the state sector. "We need a country that will be recognised and accepted by other countries and international organisations. We must also foster reconciliation among all communities in the country," he said.

"This is the base we need to develop the country and rebuild it once more. We may have debates and differences of opinion on economic factors but I believe everyone will agree to the facts mentioned above as without them we cannot revive the country," he added. The NPP assured the attendees that his party will make the necessary political change to facilitate these improvements that would lead to a developed Sri Lanka.

The event was attended by over 1000 invitees from the business fraternity in Sri Lanka. The party's economic proposals were presented by NPP council member and Kotte MC Candidate Chathuranga Abeysinghe and were followed by a Q & A session where invitees were given the opportunity to pose questions to a panel of economic experts representing the party.