Says immediate need is to return to 2018 levels
Aims 7 m tourists, earnings of over over $ 10 b within next five years
Key focus areas include: signing up marketing agencies; launch of 3-year global campaign; streamlining of SLTDA, SLTPB, SLCB services; maintaining inter-ministerial cooperation
Three-year global campaign to cover entire gamut of platforms as per key request by industry representatives
Proposes to share resources, services in in all agencies under her purview; introduce best practices to up efficiency at Sri Lanka Tourism
Seeks possibilities to extend financial support to SMEs affected by Easter Sunday attacks
Admits Sri Lanka has missed busy December with just two weeks remaining
By Charumini de Siva

Sri Lanka Tourism's new Chairperson Kimarli Fernando yesterday expressed confidence to turn around the industry in an organised manner to ensure that the country will become a top tourist destination to attract around 7 million travellers, with an income of over $ 10 billion within the next five years.

Fernando, who has vast private sector experience in top positions in many local and international companies, is the first woman Chairperson ever appointed to head Sri Lanka Tourism. She will head Sri Lanka Tourism Development Authority (SLTDA), Sri Lanka Tourism Promotion Bureau (SLTPB), and Sri Lanka Convention Bureau (SLCB).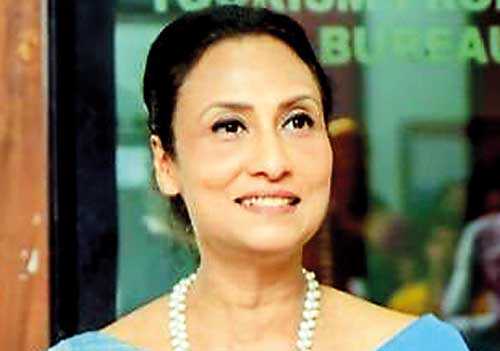 Sri Lanka Tourism's new Chairperson Kimarli Fernando
With the leadership of President Gotabaya Rajapaksa, she was confident that the changes this country had been waiting for will be made, for the industry as well as for the country.

Signing up of proper marketing agencies, launching a three-year global marketing campaign, streamlining services at all three institutions, and maintaining inter-ministerial cooperation were highlighted as the key focus areas.

"President Gotabaya has a detailed plan to drive Sri Lanka towards an economically strong, inclusive prosperity, and tourism has been identified as a thrust sector. We are looking at five-year timeline with over $10 billion earnings, and around seven million tourists. This year had been tough to all stakeholders post Easter Sunday attacks, and our immediate concern is to get back to 2018 levels and progress from there onwards," she said.

Acknowledging that successive regimes have for decades miserably failed to pull off an effective marketing exercise, Fernando said plans are underway to immediately get the marketing activities right on track, which is critical for Sri Lanka Tourism at this point of time.

"It is important to appoint public relations (PR) agencies and overseas destination marketing representatives that can directly contact the consumers. If you want to sell your product overseas and sustain in the long run, it is imperative that we have promotions teams in place, which many competitive countries have been practicing for years," she added.

She pointed out that participation at leading travel trade exhibitions, partnering events, and having billboard promotions alone is not effective anymore if Sri Lanka needs to remain among the top travel destinations in the world, given the high competition from the regional countries.

Simultaneously, the Chairperson said they hope to roll out a global marketing campaign for at least three years, covering the whole gamut of platforms, from mainstream to digital media.

"A global campaign has been the one thing that the industry had been longing for, but for decades we have failed to deliver. It is one of the key tasks to conduct a well-structured global campaign, at least for a three-year period," she added.

Fernando said she met with the key industry representatives over the last two days of assuming duties, and their main concern was to fast-track the global campaign, to rebound in an organised manner.

Assuring to follow the procurement guidelines, Fernando also assured that they will however expedite the duration involved in implementation.

"We noticed that there had been many good proposals even during the previous regime, but they were all derailed because of the time-consuming procedures. We intend to follow due process, but wherever we can, to cut short the duration involved, especially in bidding processes, and expedite progression," she stressed.

Fernando also proposed to streamline many of the processes with automation, to increase efficiency in all agencies under her purview. She said that this includes the process of obtaining star ratings, and issuing of liquor licenses to remove any ambiguity and manipulation.

The Chairperson together with State Minister Arundika Fernando will have a discussion with the Excise Department to rationalise the issuances of licences given to restaurants and hotels, as well as to amend the times liquor could be served at these places.

As the head of SLTDA, SLTPB and SLCB, she plans to share resources and services in the three organisations, while introducing best practices to up the game regarding efficiency at Sri Lanka Tourism.

She also noted that steps have been taken to enhance the service of Tourist Police Units in tourist hotspots. "We are going to increase the Tourist Police presence in popular travel destinations, to ensure zero incidents to travellers, as well as for hotels and restaurant operators," Fernando added.

When asked if the presence of Police will hinder the enjoyment of travellers, she justified it by noting it was a practice adopted by many developed destinations, to ensure safety for all local and foreign tourists.

Fernando said inter-ministerial coordination was critical in implementing initiatives, as it has been identified as a key issue in the delay of projects, and she has been assured of the full cooperation from the two ministers.

She will also meet with SMEs this week to discuss their difficulties, and look at possibilities of extending the financial support given to those affected post-Easter Sunday attacks. "Many of the SMEs are in the verge of bankruptcy, and I want to see if they can be given an additional timeframe to repay their debts, because a period of one year is perhaps not sufficient for a budding, unexperienced entrepreneur to overcome such a massive blow," she stressed.

Refuting to give any particular figure for the year to end on, Fernando admitted that Sri Lanka has surely missed this December with just two weeks remaining.

"I cannot comment on a year-end number for arrivals and for earnings. It was earlier predicted by former officials that we will reach 1.9 million, but looking at just two weeks to end the year, I don't know if we can make it. There can't be more hotel reservations to be made for the year, and I feel we have missed this December," Fernando said.