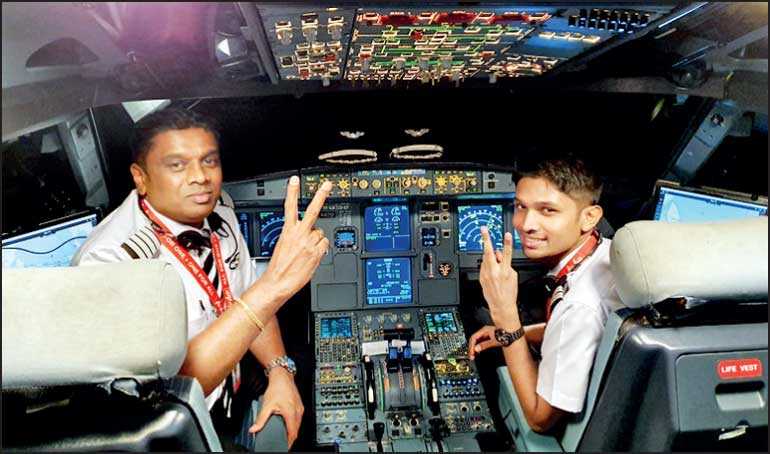 Spark Air Head of Safety Management Systems Capt. Uditha Danwatte (left) with his son who is a pilot as well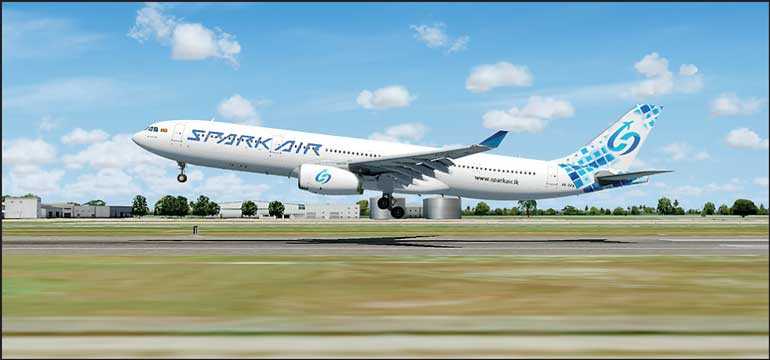 Two A330s to commence with cargo operations at outset
Will fly to destination in all continents as per plan
Must protect national carrier, says Capt. Uditha Danwatte
New venture to generate thousands of jobs to skilled locals
---
By Darshana Abayasingha
---
Sri Lanka's newest commercial international airline, Spark Air, plans to take wing from February next year, with the Mattala International Airport serving as its hub. The company, Spark Air Ltd., will initially fly two Airbus A330 aircraft for cargo operations due to the ongoing pandemic, and later expand to passenger operations as the airline passenger situation improves in time to come.

Speaking to journalists in Colombo, Spark Air Head of Safety Management Systems Capt. Uditha Danwatte said the proposal was conceived by four former senior captains with SriLankan Airlines and other international airlines, as the environment is now conducive to expand aviation in the country. The direct investment of a yet undisclosed figure will consist of local and foreign investors.
The Civil Aviation Authority has listed Captains Robert Spittel, Ramzi Raheem, Samin Attanayake, Ashan De Alwis and Suranjan De Silva as Directors of the organisation in its public notice for Spark's application for an Air Operator Certificate, Airline License to engage in International regular Transport Operations and Charter Operations carrying passengers, cargo and mail.

Captain Danwatta added that in addition to cargo operations at the outset, Spark Air will also operate an MRO facility (Maintenance, Repair and Overhaul) at Mattala, eventually providing employment to over 2,000 highly-skilled locals with recruitment commencing from December. The two Airbus A330s will be acquired on dry-lease basis also enhancing opportunities for local talent.

"The new Government is looking to provide a lot of new facilities to develop aviation, including minimising landing charges, air freight charges and ground handling so it will be beneficial for new airlines that are coming in. We also have a very positive Director General of Aviation, who is keen to of develop aviation in the country. Initially, there will be two aircraft and then increase as per our business plan."

"With this pandemic situation we have to diversify operations and not just focus on passengers. There is a huge demand for cargo and this was one of the reasons we decided to go ahead with the project. As per our plan we have many destinations in mind including even Los Angeles and it covers Asia, Europe, Africa and the Far East. We have also received enquiries for transit cargo," says Capt. Danawatta.

Speaking further, the retired Air Force fighter pilot turned commercial airline pilot added the national carrier must be protected and expand its routes and frequencies. He laments its inability to do so at present due to gross mismanagement of SriLankan Airlines. He stated that in order to develop aviation, countries must have more than one carrier pointing to examples from Malaysia, Indonesia and India, which would benefit tourism and enhance local employment opportunities.

"We only have SriLankan Airlines, that's not enough to cater to everyone. In addition, SriLankan has 26 aircraft and 7,000 staff whereas AirAsia has 110 aircraft and 2,500 staff. How can SriLankan make profits? The management has clearly not been successful."

"What happened to the airline is it was lagging with incompetent people; the right people must go for the right job. Qatar Airways flew five times a week to Colombo from Doha using 777 and 340 aircraft. They are carrying all our passengers, when we could get those passengers into our airlines. Why are we giving all that money to Qatar? But SriLankan cannot cater to that requirement with the available number of aircraft. We can explore operations to many other destinations, it does not have to be destinations already serviced by SriLankan. We will always support SriLankan but it needs the right people, and to develop aviation we need more than one airline," Danwatte stated.

He also said there are nearly 400 qualified pilots in the country who are currently without jobs, in addition to ground staff, flight crew and engineers. Danawatte said this presents a sad situation as students and parents invest heavily to obtain a pilot's license, but they then lack the opportunity to gain the necessary experience. No airline will employ them with just around 180 hours of flying time, and only the national carrier could employ them which is also severely restricted. He said this underscores the necessity and potential for new airlines in the country to boost the sector.

"AirAsia wanted to have a hub here in Colombo, they had discussions with the previous government with investment of over $ 100 million investment and 25 aircraft. It failed because they were not sure of political stability in the country due to some of the issues that took place. We tried again with the new government coming in, but the pandemic changed the situation."

"Whoever is investing in a new country needs security and stability. When we analyse the past 70 years and the politicians that governed this country, we can see where we are compared to the rest of the world. We are far behind. We need better consistent national policies and the right people in the right jobs. I think this is a good chance we have as we have a visionary leadership. That is why we got together to do this and work to develop the sector. You have to open up and this is the best time because the government is supporting it," he said.

Captain Danwatta who was a Captain with Mihin Lanka claimed that the previous government cancelled the airline when it had just begun to make profits. He said this was a bad decision alongside the decision to close down the Mattala airport. He asserts that the country needs a second international airport, drawing also to examples of international flights being diverted from Colombo to India at times of bad weather, which results in significant costs to the country and the carrier.

Spark Air will have an office at the Mattala International Airport and an office in Colombo. The new airline is not looking at domestic operations at present. With the prevalent pandemic situations, parties leasing aircraft have significantly slashed prices, and Danawatta says this is the best time to invest in the sector.

Danawatta served for over 20 years in the Sri Lanka Air Force and retired as a Wing Commander with seven medals for bravery. He then joined the national carrier before joining Mihin Lanka. He then joined Air Asia, Malaysia and a year ago made a historic flight from Kuala Lumpur to Colombo with his son as its First Officer. This was a first in Sri Lankan aviation where father and son flew a foreign flag carrier to Sri Lanka, he said.