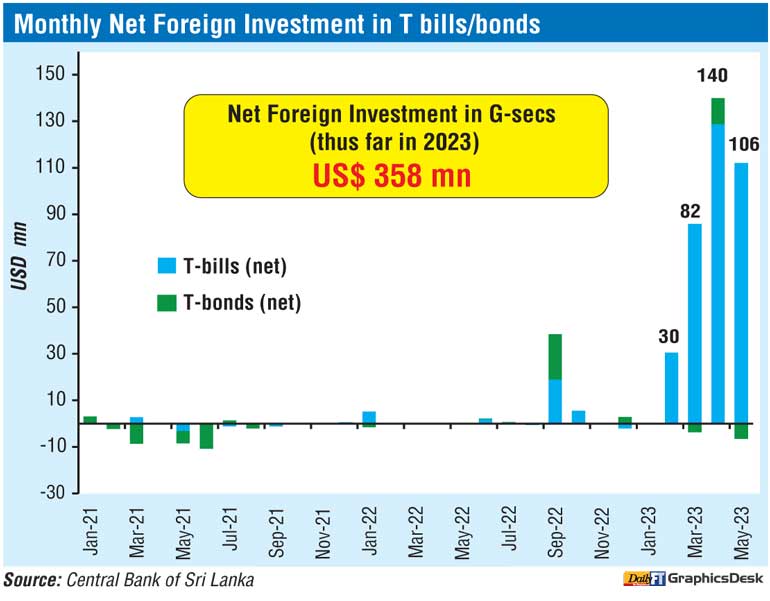 Net foreign investments into Government Securities have topped the $ 350 million mark, the Central Bank revealed last week.

Of the amount, $ 140 million had been in April and $ 106 million in May. According to Wealth Trust Securities, the foreign holding in rupee bonds was seen increasing by Rs. 6.13 billion for the week ending 1 June 2023 to record its 16th consecutive week of inflows totalling Rs. 141.88 billion.

However some analysts speculated that some of the inflows could be "hot money" amidst uncertainty over the previously prevalent interest rate regime amidst efforts to deal with the Domestic Debt Restructuring (DDR)/Domestic Debt Optimisation. The latter originally created upward pressure on rates in the debt market.

Weighted average rates at the Treasury Bill auction decreased across the board for the first time only in the week ended 19 May after six weeks of gain. However the CBSL last week reduced policy rates by 250 basis points, first ever downward revision in nearly three years.

This led to a drop in overnight call money and repo rates to 13.97% and 14.00% respectively for the last two trading days of the week against its 16.47% and 16.50% for the first three days of the week.

Another cause for possible hot money inflow is the speculation on the exchange rate which had appreciated by 24% year to date.

The CBSL last week expressed the hope that yields on government securities are expected to decline further with risk premia could subside substantially with the announcement of the DDO operation.

In terms of the currency, the CBSL attributed the appreciation of the rupee to positive market sentiments, underpinned by the improvement in liquidity in the domestic forex market. CBSL had mopped up $ 1.7 billion worth of forex, year to date.

It also said the continuation of the IMF program, further financial assistance from development partners and renewed investor appetite, coupled with the advances in the debt restructuring process, are expected to ease the BOP constraint significantly in the period ahead.