---
Cabinet paper in the offing for moratorium on sale of factories and collateral
Requests by over 110 tea factories for Rs. 5 billion relief, 33 factories in NPL status, 15 others closed
Govt. to consider subsidising 4% of payments under special scheme
By Charumini de Silva

Plantation Industries Minister Navin Dissanayake this week assured tea factory owners of financial relief to withstand the difficulties faced by the industry.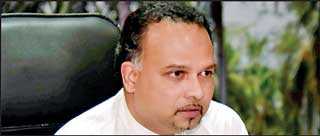 Plantation Industries Minister

Navin Dissanayake


This assurance was given to over 18 tea factory owners at a high-level meeting held with 15 State and private sector financial institutions, along with Plantation Industries Ministry Secretary J.A. Ranjith, Additional Secretary Tharangani Wickremasinghe, Sri Lanka Tea Board Chairman Lucille Wijewardena, and Tea Commissioner E. A. J. K. Edirisinghe at the Plantation Industries Ministry in Battaramulla this week.

The key outcomes of the discussions included a moratorium on sale of factories and collaterals till November due to non-payment of loans; renewing some loans for a grace period of one year; and considering a subsidised interest rate payment scheme.

The Minister discussed individually with the tea factory owners the hardships they face in terms of loan repayments and the relief measures they were seeking from the Government and financial institutions to continue business.

A key issue that was pointed out by the tea factory owners was that they were grappling with many financial constraints, as their earnings have plunged due to shortage of green leaves to carry on the business. They also highlighted that the increased income tax and high interest rates were major stumbling blocks in sustaining businesses in the current downward economic conditions. Furthermore, they said tea adulteration (adding sugar to tea) as well as various factory owners making unnecessary purchases of tea leaves at high prices (although it would be beneficial to the farmer) were causing instability in the industry.

Therefore, the representatives of the factory owners called on the Minister to request that financial institutions consider providing a grace period of one to two years to repay loans, particularly those listed to be auctioned due to non-payment of loans obtained, and to provide concessionary interest rates as it has become a great burden for them.

Underlining the importance of the survival of the tea industry, which claims over two million dependants and a contribution to the national economy spanning over 150 years, the Minister urged the banks and financial institutions to make arrangements to suspend the auction of tea factories due to default of loans, and to renew some of them that has not been given an extended time. "The Minister earnestly listened to all our woes and positively responded to support our requests at the earliest possible," Sri Lanka Tea Factory Owners Association (SLTFOA) Chairman Harith Ranasinghe told the Daily FT.

On the request for a moratorium on sale of factories and collaterals that has lapsed repayment period, the Minister has assured that he will forward a Cabinet paper on it to get a grace period of one year. However, in terms of the two-year grace period requested on capital and interest repayment, the Minister has said that it needs to be further discussed with the Government and the top level financial institutions officials, insisting it is a colossal amount.

According to SLTFOA, over 110 tea factories has requested financial relief, which tops Rs. 5 billion at present, with the number of factories wanting financial assistance increasing by day.

He said a total of 15 factories have closed thus far, while over 30 factories that have gone into non-performing loan (NPL) status are in the verge of closure due to financial difficulties.

It was pointed out that the factory owners obtained credit facilities to upgrade the plants according to ISO standards at the request of Sri Lanka Tea Board eight years ago, where the interest rates were below 10%, which has now shot up beyond 15%.

SLTFOA also requested those outstanding loans be transferred into 'Enterprise Sri Lanka' under a low interest rate. However, the Minister explained it was not viable for the banks and financial institutions to facilitate concessionary interest payments and it also needs to be further discussed with the Government. "The Minister categorically said he cannot promise to transfer our loans to Enterprise Sri Lanka, as it was created for a different purpose. But he said will try to subsidise 4% of what factories are paying at the moment via a special scheme after discussing with the Finance Ministry, the Central Bank and the financial institutions," Ranasinghe said.

The factory owners noted it was extremely difficult for them to continue business and service debts as they used to do, with low tea yields, high interest rates and declining tea prices.

They said the credit facilities were obtained by them as there was a proper plan for replanting which was happening at full scale for them to have a sufficient crop by the time factories were upgraded with new machines and standards. However, they now claim that there is zero replanting due to which there is a shortage of green leaves to continue business.

"We really hope the Government will give us some good news by August and help the tea factories at this hour of need as there are over two million people depending on this industry," he stressed.

When asked why the matter was not flagged for the higher authorities at an early stage, the association said they brought it to the attention of the Minister as well as the Prime Minister Ranil Wickremesinghe, but none of them thought the actual situation was this serious.

Although the banks and financial institutions officials participated in the meeting extended their fullest support to the tea industry, they would still have to seek approval from their respective Boards for the appeals made by the tea factory owners.

The Minister will talk to another batch of tea factory owners in two weeks.