ICCSL, Daily FT and CIMA announce latest winners of top accolade
---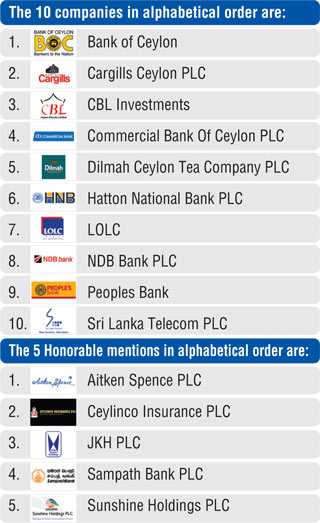 The International Chamber of Commerce of Sri Lanka (ICCSL), the Chartered Institute of Management Accountants (CIMA) and the Daily FT have announced the winners of the coveted Most Admired Companies of Sri Lanka in the 2019/20 financial year.

Open for both listed and unlisted companies, the annual Most Admired Company Awards recognises companies that are a cut above the rest in terms of not just their financial performance but also the value they create for their shareholders, customers, employees and the wider community in general.

The companies within the top 10 are those that inspire other organisations and entrepreneurs. They have proven their mettle with consistency, authority and sustainable growth, creating excellent business performance.

KPMG is the Assurance Partner. The Platinum Sponsor for the program is AIA Insurance Company.

The partners for the program are The Daily FT, the widely-read and only business newspaper; ICCSL, the national chamber of ICC Paris, the largest and most representative business chamber in the world, with over 45 million members in over 130 countries; CIMA, the world's leading and largest body of professional accountants, The Association of International Certified Professional Accountants.

The awards ceremony is scheduled to be held in January 2021.