President Maithripala Sirisena greets Indian Prime Minister Narendra Modi at the Presidential Secretariat - Pix by Chamila Karunarathna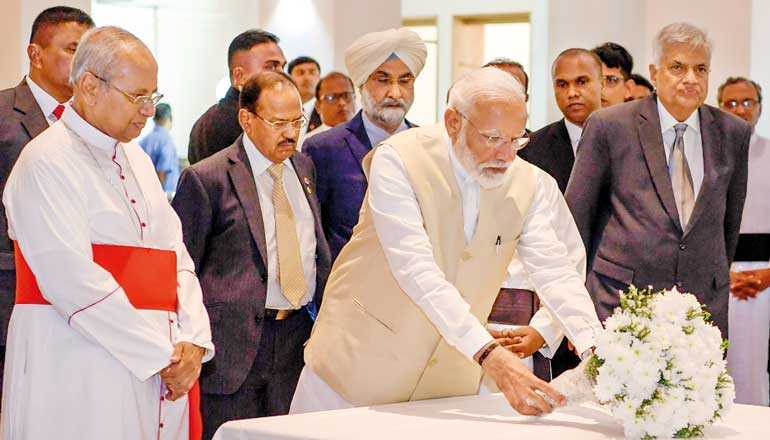 Indian Prime Minister Narendra Modi presents flowers at the Kochchikade Church to remember those who lost their lives in the Easter Sunday attacks with Prime Minister Ranil Wickremesinghe and Archbishop Malcolm Cardinal Ranjith
---
Tweets "India never forgets her friends when they are in need" after landing
Meets President, promises closer collaboration on counter terrorism, security and economic development
Sirisena thanks Modi for being first high-level visitor since terror attacks
Two PMs hold detailed discussions on tapping mutually-beneficial economic opportunities
Visits Kochchikade shrine to honour lives lost in blasts, says confident Sri Lanka will rise again
Modi calls for global conference to tackle threat of terrorism in the region and around the world while in Maldives


Indian Prime Minister Narendra Modi undertook a whirlwind visit to Sri Lanka yesterday, meeting with the President and Prime Minister and making a stop at the Kochchikade Church to honour those who lost their lives in the Easter Sunday attacks.

"I had a short but immensely fruitful Sri Lanka visit. Sri Lanka has a special place in our hearts. I assure my sisters and brothers of Sri Lanka that India will always be there with you and support your nation's progress. Thank you for the memorable welcome and hospitality," Modi tweeted after wrapping up his five-hour stop in Colombo.

In his second meeting with President Maithripala Sirisena in just 10 days, the two leaders discussed a range of issues including security and economic collaboration between the two countries.
Sirisena had also expressed his gratitude to Modi for being the first high-level foreign visitor to Sri Lanka after the 21 April bomb blasts.

"President Sirisena expressed his gratitude to the Indian Premier for visiting Sri Lanka at a time when the country is reeling under the terrible terrorist attacks, thus giving a positive signal to the world about Sri Lanka's secure environment. He added that the visit also reflects the strength and trust exists between the two neighbours," the President's Media Division said in a statement.

Prime Minister Modi also appreciated President Sirisena's programmes to fulfil duties towards all communities, it added.

The two leaders held discussions covering issues pertaining to bilateral relations and regional security, peace and stability. As both Sri Lanka and India have been victims of terrorism, both leaders condemned terrorism in all its forms and decided to step up cooperation in this critical area.



"We discussed the need for close collaboration between India and Sri Lanka in the fields of counter terrorism, security and economic development. President Sirisena and I agree that terrorism is a joint threat that needs collective and focused action. Reiterated India's commitment to partner with Sri Lanka for a shared, secure and prosperous future," Modi's tweet on meeting Sirisena said.

Modi also said he had "fruitful discussions" with Prime Minister Ranil Wickremesinghe and assured him of India's full support to further strengthen bilateral development partnerships. "These partnerships include people-oriented projects in Sri Lanka."

Prime Minister's media also said the two Premiers also spoke in detail about how to synergise on economic development during their meeting.

Modi also honoured those killed in the Easter bombings, vowing support for the island nation as Delhi seeks to counter the rise of China in the region, Reuters reported.

The stop in Sri Lanka was part of Modi's first overseas trip after winning a second term. He arrived from the Maldives. In recent years, China's presence has grown in both in Sri Lanka and in the Maldives as Beijing financed infrastructure projects and sought closer military ties, especially for its Navy. The debt from those projects has, however, become a burden for both countries.

India is pursuing what it calls a "neighbourhood first" foreign policy centred on its allies in South Asia, although there is little sign of a warming in relations with arch rival Pakistan.

"India never forgets her friends when they are in need," Modi, the first foreign leader to visit Sri Lanka since the attacks, tweeted after touching down.

Modi later prayed and placed flowers at St. Anthony's Shrine, which was bombed on 21 April along with two other churches and four hotels.

"I am confident Sri Lanka will rise again. Cowardly acts of terror cannot defeat the spirit of Sri Lanka," Modi later tweeted.

On Thursday, Indian Foreign Secretary Vijay Gokhale said India would continue to provide support to Sri Lanka in the fight against extremist groups.

New Delhi is also looking at more multilateral investment projects, modelled on a draft agreement to develop a port terminal with Japan in Colombo that was signed last month, he said.

On Saturday Modi called for a global conference to tackle the threat of terrorism in the region and around the world during a visit to the Maldives.

During a speech on his first foreign visit since winning re-election, he told the Maldivian Parliament in Male that "terrorism is not just a threat for a country, but to the entire civilisation".

"The international community has actively arranged for global convention and many conferences on the threat of climate change. Why not on the issue of terrorism?" Modi said.

He called for a global conference "so that there can be meaningful and result-oriented discussions for plugging the loopholes that terrorists and their supporters exploit".

His trip to the Maldives is being viewed as a statement of intent to counter the rise of China, which has been making strategic inroads in the Indian Ocean in recent years and seeking closer military ties, to the alarm of New Delhi.

"In the neighbourhood, Maldives is priority," Modi said in his speech.

During the visit, Modi has signed a slew of agreements with the island nation encompassing ferry services, port terminals and a new national cricket stadium.