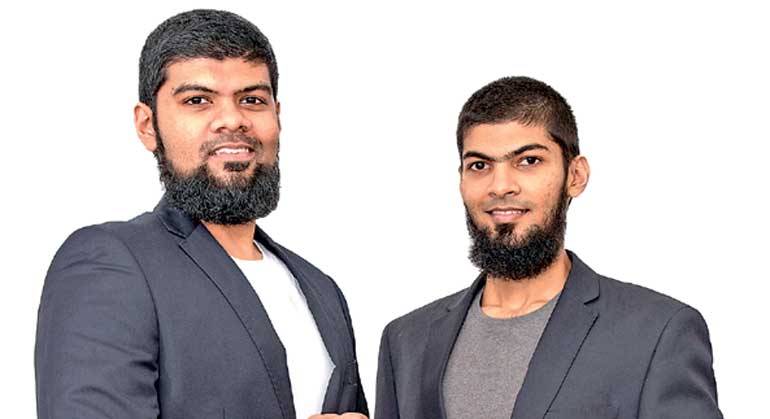 Media Gallery Founder Masud Zaheed (left) and Co-Director Abdullah Zaheed
---

Media Gallery – a creative design agency located in Colombo – is a name more visible and audible on social media than in print, yet it is creating waves and garnering warm accolades for the brilliance it demonstrates in the area of design and communication. 

Media Gallery was founded by Masud Zaheed, a graphic designer with an abundance of creative ideas, an eye for detail, and a unique sense of humour. Masud is a firm believer in loving his work, and this philosophy has extended his unique creative abilities beyond his professional limits. 

His Facebook/Instagram page 'Thambipanni,' which includes a collection of rib tickling 'puns' inspired by Sri Lankan culture, is a must-visit for his followers and has proven to be a stress reliever for many. However, 'Thambipanni' is not a part of his professional endeavour and is best characterised in Masud's words as the need to 'spread positivity and bring a smile to people's faces during these trying times'. 

Masud thinks that all work and no play is a recipe for professional weariness and boredom and considers humour to be his constant companion as he leads Media Gallery ahead in an industry, widely recognised as one of the world's biggest and most innovative. 

The agency's modest origins date all the way back to his days as a student at his alma mater, Royal College, when his distinctive creative abilities were initially recognised and rewarded. Entrusted with the task of designing the Royal-Thomian – Battle of the Blues souvenir, Bradby Shield souvenir, and other designs created for a variety of prestigious publications and events.

At Royal College, he had the opportunity to work with clubs and societies representing all faiths, from designing publications for the Buddhist Brotherhood to event designs for the Catholic Students Union, all of which refined his skills and helped him add a professional touch to any project he was working with. The young artist expresses gratitude to school for providing the platform and motivation to embark on a career that has evolved into a fully functional design agency, in fact, a family enterprise with the support of his co-director Abdullah Zaheed.

Media Gallery has set its sights on organic growth which is both sustainable and attainable in an increasingly competitive market environment. In this respect, the agency has implemented a mix of strong rules emphasising business ethics, effective usage of technology, adherence to modern trends and practices in the design industry, and customer-centric initiatives as it strives to be counted among the country's creative elite. 

Explaining the process of Media Gallery's graphic designing in detail, Masud stated: "When a client contacts us for a design requirement, we engage with him in trying to understand the project and let our thoughts gravitate towards his specific request. This approach helps us better in appreciating and meeting the client's expectations. The desire to do a job well and impress our clientele fuels our thoughts and gives our client relationships muscle. Earning the all-important 'Thank you, that job was amazing!' compliment is what we're after. This DNA element is what binds us together and motivates us to succeed."

As Media Gallery continues to develop with the times, the brothers set their eyes on exploring overseas markets for décor products in the not too distant future. Faced with the challenging times brought about by the global pandemic, the company sees their interior décor business model adapting to e-commerce at a faster pace than anticipated with client website inquiries and on-line sales recording a steady increase in traffic. 

While Masud's original service was bespoke graphic design, Media Gallery soon expanded to include specialised interior décor solutions for on-site client sites such as homes and commercial venues.

"We had no idea how complex this industry was," stated Abdullah Zaheed. "We overcame creative hurdles by thinking differently and solved sticky challenges with well-thought-out visual strategies. In certain situations, a physical or virtual visit to the client's home or office is required; we prefer to listen with our eyes and therefore examine the interior (or exterior) layout. This includes furniture arrangement, wall colour choices, interior and outdoor lighting, and curtain selection. Knowing the customer's needs and budget helps us to provide suggestions, discuss options, and help customise our wall décor items. This technique is vital to our design efforts. Aside from Arabic calligraphy, we now provide scenic pictures and motivating messages for corporate work environments. Our canvas wall décor canvas and wood-based products have been featured in many home and commercial interior design schemes. Receiving customer recognition as a resource for skilled wall décor advice has been gratifying."

Mediagallery's graphic design portfolio and unique products focused on the art of Arabic calligraphy are available on its website.