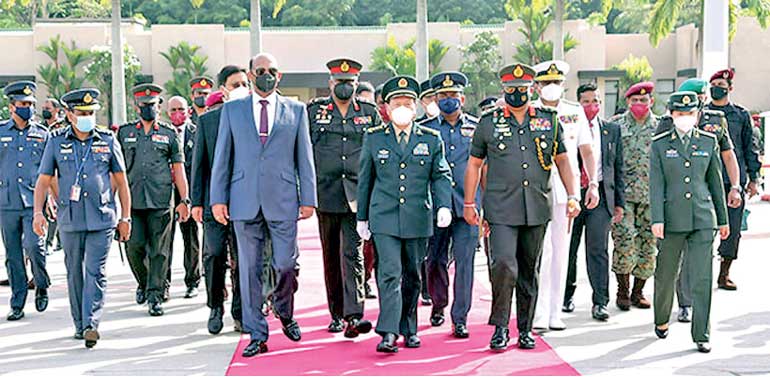 General G.D.H. Kamal Gunaratne at the inauguration of the NDU Alumni Association of Sri Lanka
---
General G.D.H. Kamal Gunaratne (Retd) extended sincere congratulations on the first anniversary of the Chinese National Defence University (NDU) Alumni Association of Sri Lanka, as well as the forthcoming 94th anniversary of the Founding of the Chinese People's Liberation Army (PLA). In 2010, the Secretary of Defence Ministry, General G.D.H. Kamal Gunaratne inaugurated the NDU Alumni Association of Sri Lanka as the Chief Guest, being the Defence Secretary of Sri Lanka. Following are excerpts of the interview conducted by Chinese Chamber of Commerce in Sri Lanka Chief Media Officer Amy Yang with Defence Secretary of Sri Lanka General G.D.H. Kamal Gunaratne (Retd):
---
Q: China and Sri Lanka enjoy a long history of friendship with deep bilateral relations. What do you think of the achievements of the interaction between the two militaries?

China and Sri Lanka have been maintaining cordial bilateral relations, which dates back to 4th century AD. Mutual understanding and supports given by each other has been a tradition since ancient times. We consider China as a superpower. Being a superpower, China does not interfere in the internal affairs of Sri Lanka or other countries, which is highly appreciated. We salute China for that.

Smaller countries, including us are burning with certain problems, maybe economic crisis, natural disasters, or environmental calamities. China has always been there to help us, with timely assistance. When we were challenged by the United Nations Human Rights Council (UNHRC) on 'war crimes' and 'crimes against humanity,' China supported us by exercising the veto power against the UNHRC Resolution against Sri Lanka, which will never be forgotten even by our future generation.

China has been supporting Sri Lanka during the 30-year-long conflict when we were suffering from the terrorism. China was the frontline country who came to help and showed the real friendship. You can see, in our military forces, soldiers, sailors or airmen are mostly equipped with Chinese weapons. We have Chinese guns, air crafts as well as Chinese ships and gunboats. A great many of supplies came as gifts from China in our bad days.

China also offered technical supports like communication equipment, radars and other technical equipment for our tri-forces. Thanks to Chinese artillery target-search and gun-pointing radars, which are still in Sri Lanka Army today, we managed to locate the gun positions manned by the terrorists, and were able to minimise the numbers of casualties and save the lives of innocent civilians.

A large number of Sri Lankan officers are undergoing training offered by China. The training opportunities given by China are on a free basis. The well-taught knowledge has brought long-term benefits for Sri Lankan officers who went to China. Also, the defence infrastructure in Sri Lankan forces has realised great developments with China's help.

Sri Lanka is also providing training opportunities for the PLA members. Some Chinese officers were under courses in Defence Services Command and Staff College. China's military assistance in terms of credit lines and grants to facilitate the purchase of military equipment are highly praiseworthy.
Q: In April, Chinese State Councillor and Minister of National Defence Wei Fenghe visited Sri Lanka. At the occasion, you jointly launched a website of the NDU Alumni Association of Sri Lanka. What do you think is the greatest significance of the NDU Alumni Association of Sri Lanka?
There are lots of serving and retired military officers from tri-services of Sri Lanka who attended NDU. After the courses, they have served this country in tri forces and some are retired now. They don't forget the good old days in UND China. The specialised personal training and professional military education they have gained make them respect NDU. That is the reason why they want to form an alumni association.

Actually, it was I who inaugurated this alumni association as the Chief Guest, being the Defence Secretary of Sri Lanka. It was a great honour for me to attend the grand event. I talked to these officers. They all say that NDU broadens its students' international strategic vision and cultivates talents in joint combat command. The NDU of PLA is a well-known and influential platform for international academic exchanges. Creating an alumni network would be productive and beneficial for all serving and retired officers of the armed forces of various countries.

NDU has formed this organisation. Other countries should establish this kind of alumni association as well, to enhance the bond and the mutual cooperation among its alumnus.


Q: In which fields do you think the two militaries can further deepen cooperation and promote relations?

To increase the training opportunities for both militaries for the future. Sharing technological expertise and intelligence information is beneficial for both sides. We are a country that has fought for almost 30 years. We once faced the most dangerous terrorist organisation in the world – the LTTE. The leader of the LTTE was the man who showed the world the essence of suicide bombing. He launched more than 100 suicide bombers. We adjusted ourselves to the situation and have learned skills in identifying suicide bombers in long-distance and more. The anti- terrorism experience sharing would bring benefits.

Provision of military assistance such as grants should be increased. We are a developing country. China has given military equipment to our forces as grants. I think the Chinese Government will continue with the same supports. Chinese Minister of National Defence Wei Fenghe recently visited us. He had a bilateral meeting with me and promised to help and now things have started.


Q: Year 2021 is the 100th anniversary of the Communist Party of China as well as the 94th anniversary of the Founding of the Chinese People's Liberation Army. What is your impression of the development of China and Chinese PLA?

China's true potential has been unleashed and turned into an economic superpower. Hundreds of millions of Chinese population was lifted out of poverty, which is admirable. The non-aligned, unbiased international relations by China, which refrains from interfering in the internal affairs of other countries is highly appreciated. The PLA of China has undergone a transformation with the steps taken for its modernisation in the recent past, including technological advancements, sophisticated military equipment and quality of their armed forces personnel.


Q: You are also an author of many books, including the biography 'Gotabaya' and 'Road to Nandikadal,' which is the true story of defeating terrorism and bringing eternal peace to Sri Lanka. Do you have a further book plan?

I reserve the pride of innovating war literature for the first time in Sri Lankan history based on my personal experiences. I have published several books, including 'Ranamaga Osse Nandikadal,' and its English version 'Road to Nandikadal,' 'Kadol Aththu,' 'Uththara Devi' and 'Paathalayo' Sinhala and English versions of 'Gotabaya'. Some of my books became best-sellers in this country.

I am already in the process of writing several new books 'Thaarage Agamanaya' and 'Rajali Sandeshaya'. Although I am quite busy with work, I manage to write at night and plan to continue writing in the future as well.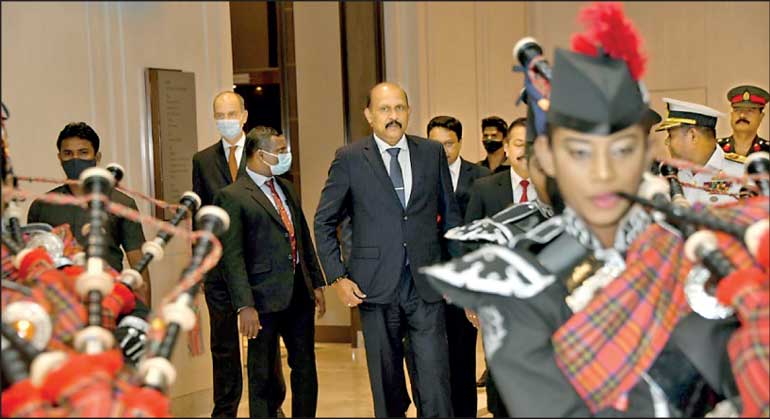 General G.D.H. Kamal Gunaratne attending the NDU Alumni Association of Sri Lanka's inauguration as the Chief Guest
---